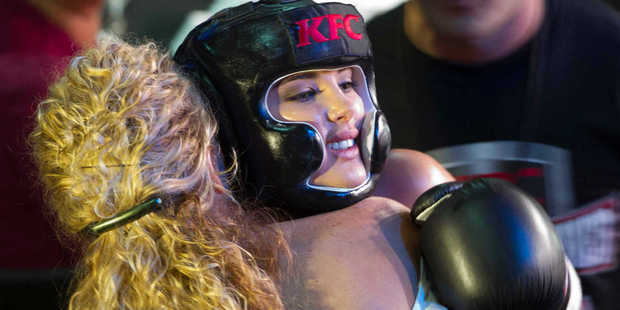 Jaime Ridge spent yesterday celebrating her win in the ring and is physically fine, says her trainer Monty Betham.
And her opponent, Rosanna Arkle, said she was feeling "fantastic" post fight and spent the day showing off her hometown, Whangarei, to her reality show cast mates.
The pair went head-to-head on Thursday night as an undercard clash in the KFC Godfather of Fight Nights at SkyCity.
After The GC star Arkle, 23, was told to cover her bellybutton stud with tape, the three two-minute rounds got going, Ridge winning a unanimous points victory.
The pair then celebrated - Ridge in long gown with glass in hand, Arkle downing bourbon RTDs in a tight, strapless, sparkly number.
Betham said yesterday he hadn't seen Ridge, 18, in person but they'd texted each other and she seemed physically unharmed by the clash.
"I'm very proud of her and Rosie, she did a great job, both girls came out and went for it as many might have expected.
But I'm very proud of Jaime, she really went for it."
Betham said Ridge had been put through tougher bouts during training than Thursday night's battle so she knew what she was in for.
"Mentally you peak and you build for something and then once it's over, you have that high then come down ... you can feel a bit low."
Last night he was planning to meet up with Ridge for a few drinks.
Meanwhile, Arkle had her own way of celebrating the fight being over. "Feeling FANTASTIC this morning! So Much weight off my shoulders! Great fight last night!" she posted on Facebook.
"Now off to Whangarei to see my hometown an show my fellow GCzy's how beautiful our beaches are! Please be nice weather!"