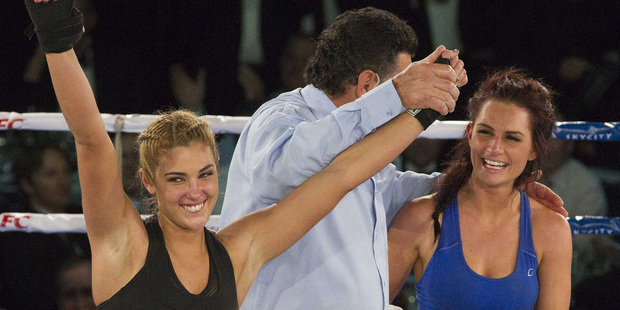 Even her opponent underestimated her, but Jaime Ridge came out punching.
The blonde socialite was the victor of last night's KFC Godfather of Fight Nights, leaving The GC star Rosanna Arkle tucking her breast protection back into her blue sports top.
Arguably the most anticipated of the undercard fights ahead of the Shane Cameron v Monte Barrett main event, the battle was over relatively quickly - just three rounds of two minutes each.
Before the bell rang, Ridge, 19, came out first, dressed in black. Arkle followed in tiny shorts and a crop top.
Both aspiring models wore chunky headgear to protect their faces, which were covered in makeup.
The clash was held up because 23-year-old Arkle took the ring wearing a bellybutton stud, which referee Lance Revill insisted she remove or tape over. She chose the latter.
More minor controversy followed when Arkle tried to throw a left jab before the first bell sounded.
The bets were on Ridge. Arkle was at $2.40, while Ridge was at $1.50.
But the daughter of former Kiwis captain and All Black Matthew Ridge had the physical advantage - she's taller and 7kg heavier than Arkle.
Ridge landed more body and head shots and with under a minute to go, Arkle started to stagger.
Ridge later admitted: "It was really different to my sparring partners. I was really tired."
Arkle added: "She was fantastic, I definitely underestimated her."
Ridge's mother, Sally, looked on from her ringside seat - with the film crew for the duo's upcoming reality TV show capturing every move.
Also ringside, fresh from his triumph in another field of contest, was Wellington barrister Greg King, who defended Ewen Macdonald against a charge of murdering Scott Guy. Mr King, who has coached boxing, sat at a table that included property investor and Herald columnist Sir Bob Jones.
Shortland Street actors, All Black Piri Weepu, Winston Peters, Gareth Morgan, Simon Dallow and Sir Peter Leitch were other well-known faces.
In the next bout, Black Cap Jesse Ryder beat radio host Mark Watson by a technical knockout in the first round.
In the main bout, Cameron knocked out Barrett in the fourth round.
- Additional reporting: APNZ