10 women or teams capable of balancing New Zealand's Olympic gender medal gap in London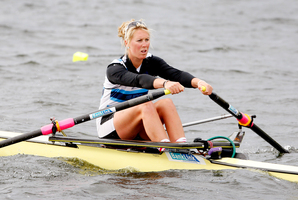 Val Adams - shot put
Adams faces a battle for gold with Belarusian Nadzeya Ostapchuk. They have the best seven efforts this year. Ostapchuk edged ahead by putting 21.13m to break her personal best by 4cm on June 12. Yet Adams has come up with the winning puts at the big meets in recent times - a reason why she has been world outdoor champion since 2007.
Andrea Hewitt - triathlon
Hewitt is the athlete to beat. She has the No 1 world and Olympic ranking. Having qualified for the Games last August, she has enjoyed a comprehensive build-up with coach, partner and French triathlete Laurent Vidal. In a nod to her consistency Hewitt has not finished outside the top nine this year. She also won September's prestigious world championship grand final in Beijing, proving she knows how to peak.
Jo Aleh and Olivia (Polly) Powrie - 470 sailing
The pair were fourth at this year's world championships and defended their Sail for Gold regatta title a few weeks back on the Olympic course at Weymouth. After forming in 2008 with the London Games as their objective, Team Jolly (Jo + Polly) shape as strong contenders to take New Zealand's first medal in a keelboat since 1992.
Linda Villumsen - road cycling time trial
The ex-Dane shapes as a medal contender in the 29km road time trial which starts and finishes at Hampton Court Palace. The 27-year old's last three world championships results have been silver in 2011 and bronze in 2010 and 2009. Her current form is outstanding, winning the time trial against the Olympic and world champions on her way to claiming overall honours in the Giro de Trentino in Italy last month.
Juliette Haigh and Rebecca Scown - rowing coxless pair
Until late last year, Haigh and Scown had experienced a blemish-free two seasons together. The Kiwis remained world champions in Slovenia, albeit by 0.08s, despite Brits Helen Glover and Heather Stanning pipping them in the preceding World Cup. This year, the Brits have pushed ahead, while the Americans and Romanians are challenging. A podium finish still beckons.
Lisa Carrington - K1 200m kayaking
Carrington became the first New Zealand women's kayaking world champion last year in the sport's Hungarian heartland. With the K1 200 debuting at the Olympics, she remains in contention for a medal after securing silver at the most recent World Cup in Duisburg. Carrington finished 0.096s behind three-time Olympic champion Natasa Douchev-Janics of Hungary, who was on maternity leave last year.
New Zealand women - team pursuit cycling
Track cycling's split into five events for men and women rather than the previous
seven-three combination has taken a possible 3000m individual pursuit medal away from Alison Shanks. However, it has added a podium chance through the women's team pursuit of Shanks, Lauren Ellis and Jaime Nielsen. New Zealand has had success in the event since 2009, with a silver and two bronze medals at world championships, but they slipped to fourth this year.
Emma Twigg - single sculls rowing
Twigg's ascent has been steady from the struggling women's eight of 2006 to numerous regatta podiums mentored by Dick Tonks. After missing the Beijing final, Twigg came fourth at the 2009 world championships and has had two bronze medals since. However, numerous threats lurk, such as double Olympic and six-time world champion Ekaterina Karsten of Belarus and past world champions Mirka Knapkova (Czech Republic) and Frida Svensson (Sweden).
Sarah Walker - BMX
BMX can crush Olympic dreams if you fail to explode best to the first corner. Walker knows - she was fourth in Beijing. May's world championships in Birmingham culminated in a semifinal exit but at least Walker was back on the bike, having dislocated her shoulder six weeks earlier. World championship gold and silver medallists Magalie Pottier and Eva Ailloud of France are on the rise and Brit Shanaze Read is another contender.
Kim Smith - marathon
The 30-year-old's modesty means her elevation into the ranks of the world's top marathon runners has hardly been trumpeted since moving from the track after the 2009 world championships. Smith has finished fifth twice in the New York marathon (2010, 2011) and eighth at London (2010). Her London foray - albeit on a substantially different course to the Olympics - was on marathon debut two years ago. She set a new national best time of 2h 25m 21s.