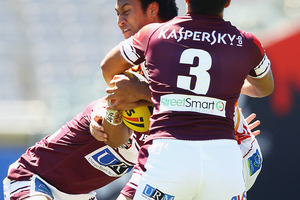 Back in the 1970s and 80s, it was said that the busiest people in the rugby league world were the craftsmen who made dentures.
A pretty rough world it was, with almost weekly episodes of dental realignment during club football at Carlaw Park.
At the time, mouthguards weren't fashionable and coat hanger tackles (quaintly called "clotheslines" in a report on the Hamilton rugby test last weekend) were regarded as just another hazard in advancing the football from goal line to goal line on any given Saturday.
Yet, in a curious demonstration of the law of cause and effect, there appeared to be a bizarre benefit from the game's relatively open minded attitude to head high tackling. It became evident that many of rugby league's hard men had early on lost the dental armoury to practise the low act of biting on the football field.
Like it or not (and most Carlaw Park patrons did), brawls were common and, in those days, part of the entertainment.
But looking back, rugby league was energetically self-policing about biting and kicking. They were the no-go areas of a sometimes brutal, sometimes beautiful game.
That general attitude has prevailed as, led by the NRL in Australia, the sport has moved decisively to clean itself up.
All the more surprising therefore that the Australians have acted shambolically in dealing with what has been described as "a grubby act" of biting inflicted on a Junior Warriors player by a Cronulla Sharks opponent in Sydney two weeks ago.
Based on precedent (the last player before the NRL judiciary on a similar charge, Bulldogs prop Brad Morrin in 2007, copped an eight-week suspension), Sharks biter Daniel Moroko should have been sidelined for at least two months but was outed for a ridiculously short one week.
This came after he admitted the charge and concocted the fanciful defence that he was an asthmatic and that he did not deliberately bite Junior Warrior Ligi Sao (who he alleged forced his arm into Moroko's mouth).
The decision has caused consternation in rugby league circles but not the outrage it deserves.
To my knowledge, there's been no call to sack the judicial panel - the very least that should result from such a blatant hometown decision.
Once again it begs the question: had it been a Warrior doing the chomping, would the line-up of former NRL journeymen have made the same ruling?
While the NRL must be sorely embarrassed that its guardians of fair play have been so partisan, they have a responsibility themselves to be transparent about how this has been allowed to happen. What went on behind closed doors that produced this diabolical and unprecedented outcome?
Normally, judicial inconsistencies around this time of year appear designed to protect State of Origin stars under suspension threats.
This time, it involves a young, up-and-coming Kiwi player, who did nothing wrong and deserved the full weight of the protection and support of the NRL for bringing this "grubby act" into the open.
Let's see if it happens.