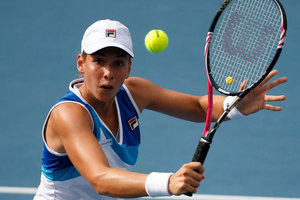 The special memories will come flooding back to Marina Erakovic as she starts this year's Wimbledon campaign tonight with her first round singles match against Urszula Radwanska from Poland.
Erakovic, ranked 49th in the world, will play 54th-ranked Radwanska on court 3.
Urszula is the sister of world No 3 Agnieska.
Erakovic said Wimbledon was a place dear to her heart, especially after making the semifinals of the doubles last year.
"There's always good memories for me here at Wimbledon. I really appreciate the history. I have always liked grass and the history here. My first coach [Chris Lewis] made the final here ... It's a special place. It's going to be interesting to have the Olympics here and everyone wearing coloured clothes too.''
Erakovic acknowledged Radwanska would be a challenge.
"I think I've played her once in the juniors. She's a good player and she plays well on grass.
She's had some good results of late,'' said Erakovic who added that her own good results this year have come after some tough times.
"Just a lot of hard work and winning a few matches here and there gets the confidence going,'' she said of her improvements.
Erakovic plays doubles with her partner from last year Tamarine Tanasugarn (Thailand). They open their draw against the Chinese duo of Jie Zheng and Shuai Peng.
- APNZ