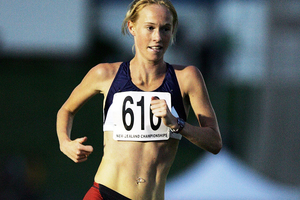 New Zealand distance runner Kimberley Smith showed great form leading up to the Olympics by winning the Boston Athletics Association 10km road race in record-breaking time.
Smith, who will run the marathon in London, stuck with the group of elite women from the start and shared the pace through the first 5km.
Ethiopia's Aheza Kiros began to up the pace but Smith stuck to her before making a break at the 6km mark and holding on for victory in a record time of 31m 36s.
"Going out a little easier helped,'' Smith said. "I kind of just sat in for the first 5km and then Kiros pushed the fourth mile a little bit and I went with her
''I thought she was tiring a little bit so I surged a little bit and dropped her. I like to run alone and push on, so that kind of suited me.''
The 30-year-old cut 22 seconds off Kenyan Caroline Kilel's race record set in the inaugural event last year. Smith, who came second last year, was just three seconds outside Anne Hannam's New Zealand 10km road record set in 1988.
- APNZ