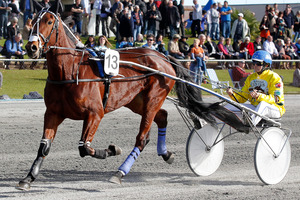 New Zealand's assault on the Australian harness racing winter riches has started with a winning treble.
And with up to 20 Kiwi-trained pacers set to cross the Tasman in the next two months, Aussie punters are waking up to the invasion.
Champion trainer Mark Purdon recorded age group wins in two states on Saturday night, with Best Deal Yet bolting away with the A$50,000 Premiers Cup on the Gold Coast.
Once he found the one-one in the hands of Purdon's partner Natalie Rasmussen on Saturday night, he was always going to be too good.
He sprinted clear at the 300m mark to have the race won by the top of the straight, providing Rasmussen with a successful homecoming to the state from where she trained Blacks A Fake to become Australia's greatest pacer.
Things didn't go so well for O Baby in the Gold Coast Oaks as she faded out as favourite after being forced to sit parked for the last lap.
Earlier on the night, Purdon's outstanding juvenile pacer Border Control won a thrilling battling against Australia's best young pacer Guaranteed to win at Shepparton, in Victoria.
Border Control led and was attacked by Guaranteed but came clear in the home straight, with the pair set to clash again in the semi-finals and final of the rich Vicbred series in the next fortnight.
Fellow Kiwi pacer Major Star had earlier won his heat of that series last Tuesday and gives New Zealand a strong presence in both it and the Australasian Breeders Crown, which culminates in August.
Major Star's stablemate Bonechip qualified for the Breeders Crown with a non-tote heat win at Alexandra Park on Friday night, as did 3-year-old trotter Triumphant Monarch, who is now likely to be sent to a Victorian trainer for his winter campaign.
Other Kiwis set to face the Aussies in coming weeks include Twist And Twirl, Cyclone U Bolt, Bit Of A Legend, Onlyforyou, Delightful Christian and possibly Flying Isa and Ideal Scott, with every horse on that list a group one or Sales Series final winner.
However, Sir Lincoln, who overcame a 55m handicap to win at Alexandra Park on Friday night, will now not be heading to Australia.
The Auckland Cup winner was to be aimed at Queensland but his connections have decided against that, suggesting he will race on at Alexandra Park throughout the winter.