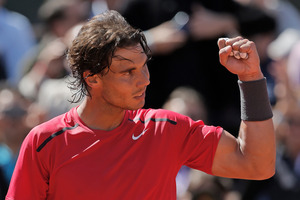 Another staggering performance from Rafael Nadal who has destroyed David Ferrer to reach a 7th French Open final.
The defending champion has won 6-2, 6-2, 6-1 and will face Novak Djokovic after he romped to a 6-4, 7-5, 6-3 win over Roger Federer.
Nadal believes he's playing near perfect tennis.
"The only thing that I don't think is I'm in the final without losing a set. The way that I think is I'm in the final - I am playing well, hopefully I can play one more match at this level."
Nadal says it might have been different if Ferrer had taken an early chance.
"I saved a very important point, 2-1 in the first set, and you never know if he had the 3-1, he was playing better than me the beginning of the match, but the reason is I'm playing well since the beginning of the season."
Nadal will face Novak Djokovic, after he demolished Roger Federer 6-4, 7-5, 6-3.
Sara Errani has won the doubles title with Roberta Vinci with Errani playing Maria Sharapova in the singles final tonight.