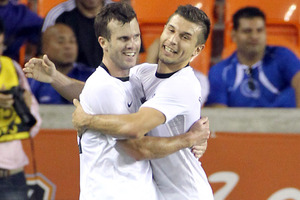 The remaining matches of the All Whites OFC Nations cup campaign can now be seen on SKY Television, including their final pool match against hosts Solomon Island in Honiara today.
Coverage in New Zealand has so far included only live streaming but due to the high demand and the importance of the final matches, OFC and SKY have agreed to work together to ensure as many football fans can see the matches as possible.

OFC General Secretary Tai Nicholas says the demand from fans has been at the centre of the negotiations with SKY.

"The OFC Nations Cup is already being broadcast across the region in Fiji, New Caledonia, Papua New Guinea, Solomon Islands, Tahiti and Vanuatu and now we're pleased to add New Zealand to that list after reaching an agreement with SKY," says Nicholas.
"OFC TV will continue to provide live web streaming of all matches but after listening to the fans in New Zealand we can see that clearly there is a high demand to watch the All Whites on SKY as they try to qualify for the FIFA Confederations Cup and FIFA World Cup in Brazil."
Richard Last, Director of Sport for SKY was happy to secure coverage of the remaining OFC games.
"We are pleased to bring the remaining OFC matches to SKY subscribers, we know there are many dedicated fans out there and this was an event we always hoped to deliver."
The All Whites have already qualified for the semi-finals of the OFC Nations Cup but still have one remaining pool match against Solomon Islands, who are likely to need a draw or a win to advance out of Group B if Fiji beat Papua New Guinea in today's earlier match. Solomon Islands are sure to have 15,000 football-mad locals cheering them on at Lawson Tama Stadium this afternoon.

The match kicks off at 3:00pm local time, or 4:00pm in New Zealand when the coverage will begin on SKY Sport 3.

Depending on today's results, New Zealand will play either Tahiti or New Caledonia in the semi-finals on Friday after the francophones finished first and second respectively in Group A. This will also be shown on SKY Sport 3. The 3rd place play-off and the final will take place on Sunday 10 June.

For New Zealand fans who have already purchased the live streaming package, OFC TV will provide a refund for the remaining All Whites matches that will be aired on SKY. Refund requests can be made by emailing support@e-cast.co.nz with login details.

- APNZ