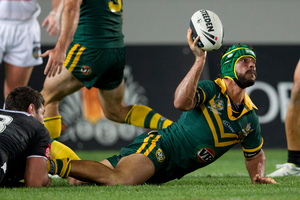 He's already been the world's best halfback, but Queensland teammate Justin Hodges believes Johnathan Thurston is destined to end his career as one of league's great five-eighths.
The winner of three Dally M halfback of the year medals and voted the game's best player in 2007, 29-year-old Thurston made a smooth transition to five-eighth for Australia in last month's Auckland test, replacing retired great Darren Lockyer.
And he completes the representative handover when he dons the Queensland No 6 jumper for the first time in the State of Origin series opener in Melbourne on Wednesday night, again with Cooper Cronk promoted inside him at halfback.
Thurston isn't entirely comfortable yet with the new position he first took on with his North Queensland NRL team this season, and is confident he can improve considerably.
"I was really interested to play alongside Cooper that night [against New Zealand in Auckland] to see how we combined and I thought that transition ran pretty smoothly," he said.
"I knew it wasn't going to come to me very quickly or easily, and I think my form has been a little inconsistent throughout the year."
Hodges, who has played much of his career receiving precision passes from Lockyer, says he's seen enough of Thurston in his new role to believe he can surpass his feats as a halfback.
It's a bold statement, as Thurston carried off last year's Golden Boot award as a halfback before putting his hand up to take over Lockyer's spot to ensure Australia and Queensland didn't suffer a changeover meltdown.
"He works extremely hard on his game and it's only a matter of time before he is the best in his new position," Hodges said.
"He's certainly the best halfback I've played with, but it's going to take him a little bit of time to get used to playing five-eighth."
The position switch has given Thurston more time and vision to run the ball.
"You still have to pick the times when you want the ball, but certainly playing a little bit wider you can see things opening up a bit earlier than you do when you're playing first receiver," said Thurston.
Despite playing 22 tests and 21 Origins since 2005, Thurston will be on edge when he runs out in the No 6 jumper on Wednesday night.
"It's a very famous jersey in Queensland's history," said Thurston, the only player to appear in all 18 games of the Maroons' record six-series domination since 2006.
"I'm a little bit nervous but really excited at the same time."
- AAP