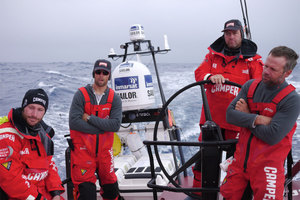 Camper skipper Chris Nicholson says he saw enough in leg six of the Volvo Ocean Race to suggest his boat is a real contender for overall honours.
Team New Zealand's entrant reached Miami only 68 minutes after leg-winner Puma after 17 days of racing from Brazil, with Groupama third. Race leaders Telefonica were fourth, which has squeezed the leaderboard considerably.
Spanish boat Telefonica continue to lead overall on 164 points, with Groupama second on 153 and Camper third on 149. Puma, who also won the previous leg into Itajai, are fourth on 147.
"This has been a good leg for us," Nicholson said. "In conditions that didn't always suit us we sailed well and were relentless in pressing for the lead. The last leg was tough for us so I'm really happy with the way we've bounced back and with the fact we've arrived here in good shape.
"It's been a long leg and Puma have sailed very nicely, they have defended very well, but I think we have attacked well too.
I'm pretty happy with how it's gone. We're in better shape now for the next leg that's for sure.
"We saw a lot of good things from both us and Puma in this leg and I think that bodes well for us in the rest of this race."
In the final 24 hours, Camper closed to within 0.6 nautical miles of Puma as the two boats battled down the Florida coastline.
Puma's American skipper Ken Read enjoyed the finish.
"It was touch and go, the guys on Camper sailed very well, but I couldn't be more proud of our team, they did an unbelievably great job," he said.
It is the fourth podium finish in six legs for Puma and the continuation of a major fightback since the team's retirement from leg one with a broken mast.
Camper had a shortened stopover in Brazil due to their problems in the last leg when they had to stop in Chile for repairs.
Now they are looking forward to relaxing in Miami ahead of the next leg to Lisbon, Portugal.
Before departing on leg seven they will contest an in-port race in Miami and another positive for Camper is their improvement in this shorter format. They made up for their disappointment in failing to make the top three into Auckland by winning the Waitemata Harbour race and came second to Groupama in the in-port Itajai race.
"This race is becoming so tight that every point is going to count. After this leg any one of the top four boats could be in the running to win," Nicholson said.
"It's very close and as we head to Europe I think there's every chance that it could come down to the wire in Galway and that suits us."
apnz pm cr
- APNZ