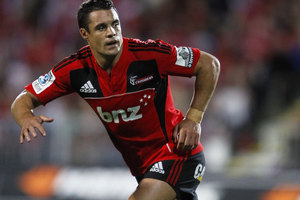 Dan Carter will stay at second five-eighths for the Crusaders until he is able to kick goals, which is not likely to happen for a few more weeks at least, says coach Todd Blackadder.
The All Blacks first-five has played six matches for the Crusaders since his return from a serious groin injury suffered during the World Cup. But he has kicked for goal in only one - the defeat to the Bulls in Pretoria - and missed three relatively easy attempts in the two-point loss. Since then he has played at second-five outside the seemingly unflappable Tom Taylor for the victories over the Stormers, Hurricanes and Waratahs.
Taylor's goalkicking is one reason why Blackadder is reluctant to leave him out. In the last three matches the 23-year-old has missed only two from 25 attempts, a hit rate of 92 per cent. The two misses came against the Hurricanes when he hit a post and Sunday's 37-33 win over the Waratahs in Sydney when his long-range attempt went just under the bar.
Blackadder said while Carter was working his way back to full fitness, he still wasn't able to fully practice his goalkicking.
"DC would have to come through a good week of goalkicking to play at 10 and he hasn't been able to do that," Blackadder said. "But for us it's a win-win situation. He gets to play and work his way back and we have Tom playing extremely well and taking his opportunities."
Teams aiming to win the competition had to have a goalkicker capable of converting more than 80 per cent of his chances, Blackadder said.
While Taylor could be shifted to second-five with Carter moving to his more familiar position at 10, Blackadder said there was little point in changing a winning combination.
Richie McCaw might also have to spend at least another week in an unfamiliar position. McCaw, who took the field in the second half on Sunday night following his six-month layoff with a foot injury, was likely to remain on the bench for Sunday's grand final rematch against the Reds in Christchurch.
Blackadder said the All Blacks captain had recovered well from his 24 minutes of action, but he didn't want to rush him back.
While the Crusaders took a while to get into their stride against the Waratahs, Blackadder said he was confident his side was moving in the right direction after a sluggish start to the season.
With five of the Crusaders' seven remaining round-robin games in Christchurch, a guaranteed four points from a bye to come and key players returning from injury, Blackadder's team is well placed to finish strongly.
They are one point behind the Highlanders in third place on the New Zealand conference.
- APNZ