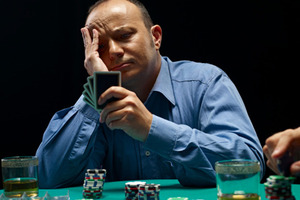 The poker world has been through more changes than Lady Gaga in recent times and misinformation is rife among players and fans throughout New Zealand.
An increase in advertising and TV exposure has raised the game's profile and stimulated conversations and opinions about poker at home games, casinos, workplaces and even lunches with mum's friends.
But in a game where results can often be too hard to define and analyze - opinions can too, so today I'm going to talk about five of the greatest misconceptions about poker.
The Poker Face:
"I wouldn't be very good at poker. I just can't tell a lie, so I would be rubbish at bluffing with a straight face"
One of the biggest poker myths is the whole 'poker face' thing. Many players (mainly those who are new to the game) are pre-occupied with the notion that bluffing and the ability to discover tells are what it's all about.
It's not. While it is important to avoid giving away too much information with your body language, it's nowhere near as important as learning the fundamentals of the game.
A much more important and significant skill is hand-reading ability - the ability to process information that you've gathered from your opponent in the current hand and in past hands, and to use that information to narrow down your opponent's holdings.
Online Poker is rigged (cashout curse)
"I cashed out $500 on Pokerstars and then they rigged my account. It's now cursed and no matter what I do I can't win anymore."
The 'cashout curse' misconception stems from a combination of variance, bad luck and stupidity. Would a multi-billion dollar corporation sacrifice the integrity of their games to make a few extra bucks off 40-year old plumber George Smith from Huntly. How would another player winning money off Smithy benefit Pokerstars anyway? A much more likely explanation is that George's luck turned over a small sample size and instead of analyzing his mistakes and looking to improve, he declared a curse to justify his losses.
While there have been documented cases of online poker scams in the past (players colluding, multi accounting, the Ultimate Bet super-user scandal) the increased security and regulation of poker sites around the world has meant that online poker is safer than ever. And there has never been a case where an individual has been targeted after they 'cashed out'.
Poker is not a sustainable career
"Poker is just another form of gambling, you will lose it all in the long run"
There are tens of thousands of professional poker players throughout the world, making money off millions of recreational players. Most of the top pro's dedicate their lives to learning the game, increasing their edge on the field, and making money.
Are their poker pro's who lose money? Of course. But they won't stay in the game for long. Those with longevity can beat the games on a consistent basis and invest money in their edge, the same way a professional tennis player or golfer does. In a game of skill the more money you make is directly related to your skill quotient and the very best beat up not only on the recreational players but the other pro's too.
Luck is more important than skill:
"I know I got lucky to win the tournament tonight, but it just proves that luck is more important than skill"
In the short term luck may triumph, but in the long run skill will pay the bills. Many times I have seen a 'lucky' player dominate a series of tournaments, or ring games in quick concession, only to slowly lose their money over a longer period to more skillful opponents.
Steven D. Levitt and Thomas J. Miles - of Freakonomics fame explored the relationship between luck and skill in a paper published by the National Bureau of Economic Research.
To determine how important Lady Luck was, the pair analysed results from the 2010 World Series of Poker that was held in Las Vegas and computed the net loss or gain for each of the more than 32,000 players who competed for a total of $185 million in prize money.
The tournament's entry fee ranged from $1000 to $50,000, for which a player receives a certain amount of chips.
The pair found that the 720 players rated as highly skilled won an average of more than $1200 each per event, or received a 30 percent return on their initial investment. All other players averaged a loss of $400 per event, 15 percent of their investment.
You are unlucky
"Of course he hits that Ace on the river, of course it happens to me... again"
Many poker players have a very short and selective memory, which harnesses in the bad and blocks out the good. Remember when you won that hand with AQ against AK all in pre-flop at the start of the tournament for all your chips? Probably not, and it definitely won't stop you from moaning about how you are simply 'the unluckiest' for losing the reverse of that situation heads up for the win.
You will have bad luck in poker, and you will have good luck. When reflecting on a session it is important to not focus on it, and put your time and energy into thinking about whether you made the correct decisions in each hand.
What poker misconceptions have you noticed? The Herald wants to hear from you.