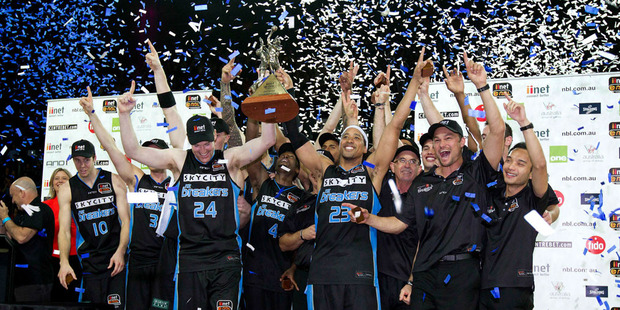 The Breakers have turned down Auckland Mayor Len Brown's offer of a street parade to celebrate consecutive Australian National Basketball League titles, preferring their own low-key option at SkyCity on Friday afternoon.
The North Shore-based club last night beat the Perth Wildcats 79-73 in the series decider in front of 9258 people at a sold-out Vector Arena. Brown was one of those punters and quickly offered the Breakers the chance to have another victory parade - they ventured along Queen St after their inaugural title last year.
"Auckland wants to celebrate this so a parade is very much an option up and down Queen Street and a bit of a celebration in Aotea Square," Brown said.
'That's there for them. It's up to them as to whether or not they want to take up that offer."
They politely declined.
Breakers general manager Richard Clarke said there was little time to fit a parade in with their own awards dinner on Friday night and two players, Daryl Corletto and Cedric Jackson, flying out on Saturday.
Friday lunchtime was an option but Clarke said they preferred a time when families could attend and would gather at SkyCity about 4.30pm to meet fans.
"Auckland has got right behind the team over the last few weeks, over the season, and the mayor has been very supportive as well so it was a nice offer," Clarke said.
"Doing something public to allow the fans to be a part of it again is something we certainly want to do.
"A meet and greet at Sky City allows people, and families in particular, to get in and get up close to the guys rather than a parade."
The Breakers will aim for a third straight title next season and, with most of the squad under contract including Tom Abercrombie, CJ Bruton, Mika Vukona, Alex Pledger and coach Andrej Lemanis, will once again be among the favourites.
- APNZ