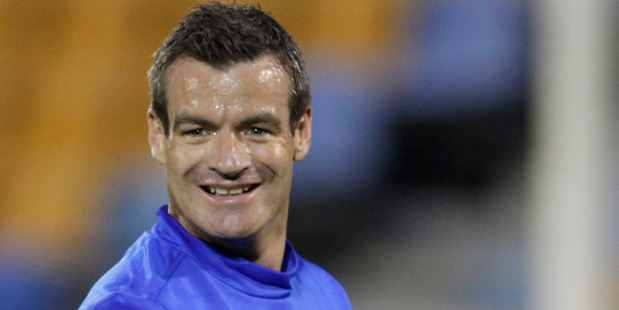 Both the New Zealand men's and the women's Olympic soccer teams have drawn match-ups with Brazil in the first round of competition, it was announced at Wembley Stadium in London overnight.
The draw sees the Oly Whites in Group C alongside Egypt, Belarus and Brazil, while the the Football Ferns have been matched against Great Britain, Cameroon and Brazil in Group E.
The Oly Whites, captained by Ryan Nelsen, will open their campaign against Belarus on July 26 in Coventry and face Egypt at Old Trafford on July 29 before facing a star-studded Brazilian line up at Newcastle's St James' Park on August 1.
The Football Ferns' campaign meanwhile, will kick off in grand style against Great Britain at Cardiff's Millennium Stadium on July 25. The team will square-off against Brazil at the same venue three days later and wrap up pool play against Olympic debutant Cameroon at the City of Coventry Stadium.
Both New Zealand coaches were buoyed by the permutations, with men's coach Neil Emblen stressing the importance of the team's first two fixtures.
"There's one absolute powerhouse in our group," said Oly Whites coach Neil Emblen,
"Brazil's the game that everyone will catch the eye but there's two other strong footballing nations in our group. However we think they are games we can look at with real hope that we can go and get some points.
"We're playing Belarus and Egypt, as are Brazil who will be clear favourites to win the group, so a win and a draw may be enough to get you through to the next stage where anything can happen.
"We'll have almost a full starting line up of full internationals and they won't be afraid of anyone."
Women's coach Tony Readings said his team would treat the opening games as an honour but certainly won't be affording the hosts any favours.
"It's always a privilege to play in these events to draw the hosts to open the entire Olympic Games will be very special for our team," said Readings, "but we've got three difficult games and our mission will be the same whether it's opening game or final pool game. We out to get the points we need to secure a top two placing in the group."
"We don't know a lot about the teams we'll play. We've haven't seen much of Cameroon, Great Britain have never played as a unified country in the women's game and we haven't played Brazil for five years.
"But it's a group we can progress from and if we reach the quarterfinals then we are only game away from a medal."
Men's Draw
Group A: Great Britain, Uruguay, UAE, Senegal
Group B: Mexico, Korea Republic, Gabon, Switzerland
Group C: Brazil, Egypt, Belarus, New Zealand
Group D: Spain, Japan, Honduras, Morocco
The top two teams from each pool qualify for the quarterfinals.
Women's Draw
Group E: Great Britain, New Zealand, Cameroon, Brazil
Group F: Japan, Canada, Sweden, South Africa
Group G: USA, France, Colombia, Korea DPR
The top two teams from each pool and the two best third-placed teams qualify for the quarterfinals.
New Zealand Schedule
July 25
New Zealand Women v Great Britain
Millennium Stadium, Cardiff
4pm (3am, July 26 NZT)
July 26
New Zealand Men v Belarus
City of Coventry Stadium, Coventry
7.45pm (6.45am, July 27 NZT)
July 28
New Zealand Women v Brazil
Millennium Stadium, Cardiff
2.30pm (1am, July 29 NZT)
July 29
New Zealand Men v Egypt
Old Trafford, Manchester
2.45pm (1.45am, July 30 NZT)
July 31
New Zealand Women v Cameroon
City of Coventry Stadium, Coventry
7.45pm (6.45am, August 1 NZT)
August 1
New Zealand Men v Brazil
St James' Park, Newcastle
2.30pm (1.30am, August 2 NZT)
- NZ HERALD STAFF