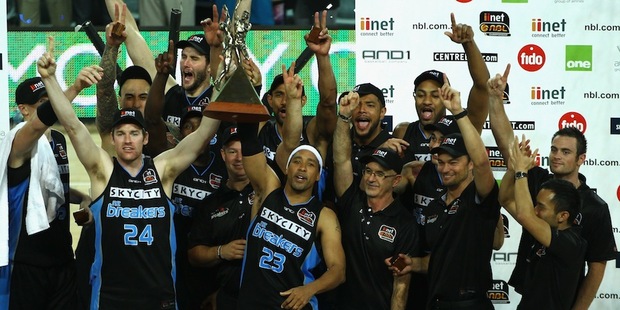 BREAKERS 79 WILDCATS 73
Many said they would never be able to do it, win back-to-back titles. Not without Kirk Penney or even an ultimate team man like Paul Henare.
According to Australian bookmakers, they wouldn't even finish in the top six.
They did, and they now stand on the verge of creating something truly special. The Breakers won a second-straight ANBL title in Auckland tonight and, with most of their squad returning for another season in 2012/13, could conceivably do it again.
Tonight's win was well short of a vintage performance but it has been a vintage year.
When CJ Bruton nailed a long-range three-pointer to establish a 71-64 lead with only one minute 51 seconds remaining, another win was in the bag.
He added another in the final minute just in case there was any doubt.
It was a telling contribution from a player who has now won five championship rings. The 36-year-old recently signed on for another two years and, knowing his approach to the game, will see no reason why he can't snaffle another two before he finally hangs up the basketball boots.
Tom Abercrombie, who had courted so much attention in the finals series because of his dodgy ankle, reminded everyone of his class with a block on Shawn Redhage to put an exclamation mark on the win.
Many predicted it would be one of the all-time great grand finals series and it was deserving of a third game like tonight's. The Breakers should really have wrapped it up in Perth on Friday night, when they blew a handy lead down the stretch, but there's little that can beat cutting down the nets in front of 9257 delirious fans.
Given game one went to overtime and the second was decided by only one point, it was inevitable the match would be close. It didn't mean it was pretty viewing as both sides struggled to find their range or turned the ball over with regularity.
It was a reflection of the high stakes. Strange things can happen when titles are on the line.
Players who were so composed throughout the season looked ragged as the title decider came down to the wire.
The third quarter, in particular, made for terrible viewing and Perth could muster only 13 points. But it was also hugely compelling. Every shot, every point became so important.
It needed someone to take control. Breakers import Cedric Jackson tried, and produced a couple of showtime moments but his outside shooting, the weakest part of his game, and handle of the dribble let him down.
Kevin Lisch was the most likely candidate for Perth even though he was struggling with a corked thigh sustained in game two but he picked up four fouls in quick succession to put his continued involvement in jeopardy and he was only one Perth player to get into foul trouble.
Bruton took it on his shoulders to be the one to deliver with his two long-range bombs.
Wilkinson celebrated at the final whistle in the way only he knows by sprinting around the court. It was the one sight the Perth players didn't want to see. But the big American wouldn't have cared. If you can't enjoy that, what can you celebrate?
- APNZ