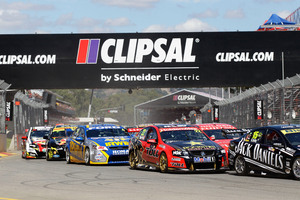 The V8 Supercars are revving up in preparation for the racing this week, but there has been a similarly loud noise coming in recent weeks from motor racing's engines of discontent.
Next month, at the annual general meeting of MotorSport New Zealand, the sport's governing body, moves will be made to bar MSNZ from being an administrative and regulatory body which also has commercial interests in the sport.
Whether the moves will succeed is moot, as the politics are complex and hidden and there is a voting bloc, largely from the South Island, which may frustrate efforts to change the status quo.
These moves were revealed after Herald on Sunday inquiries into persistent rumours - which seem unfounded - that the Hampton Downs track near Meremere was going to the wall; soon to be in receivership.
The track's owners deny it and inquiries instead turned up broader issues within a sport which appears to be at odds with itself; where Hampton Downs and the new V8 Supertourer series are symptomatic of deeper problems.
It is the reasons behind Hampton Downs' omission from what many regard as the 'closed circle' of New Zealand motor racing that is of principal interest. There is no evidence to suggest the new Meremere track is about to go broke - but a great deal that says it is on the outer of New Zealand motorsport politics, which is not helping its financial situation.
"It is not nearly as dire as that," said Tony Roberts, managing director of Hampton Downs of the rumours of receivership.
"I thought we had put that to rest. We have got a very good positive cash flow and I suspect we are doing more business than other tracks in New Zealand put together. There is a bit of debt but the bank is pretty happy with the way the business is going."
Other sources agree that Hampton Downs will continue as a going concern but put a slightly different translation on it.
The track's bankers bought into a project that depended on real estate revenue as well as the track business - but the property side of the undertaking bumped up against the global recession.
With money invested in a race track which can only be used as a race track, the bank's best strategy is to manage any shortfall in Hampton Downs' finances - which it has been doing quite happily for well over a year - until a buyer or substantial sponsor can be found.
One interested party, Australian pet food entrepreneur Tony Quinn, apparently came close to buying Hampton Downs, with Herald on Sunday inquiries suggesting he offered $11 million recently when the preferred price was $13 million. With the figures reasonably close, it is possible Quinn's interest is not yet stilled.
"It is the best, newest racing facility in the country and motor racing authorities in this country are not supporting it and trying to encourage events to be held there," said one source. "That is not acceptable."
No one is seriously suggesting a conspiracy but there is little doubt that Hampton Downs stands largely apart from the central body overseeing motor racing.
MotorSport NZ and its 60 per cent-owned promotional subsidiary, The Motorsport Company (TMC), are nominally responsible for all motorsport here - but effectively their efforts are focused primarily on 'Tier 1' events such as the New Zealand V8s series, the Toyota Racing Series and supporting classes which accompany those cars at events around New Zealand.
However, MSNZ is effectively owned by its members - the scores of car clubs around the country who pay about $1m a year in fees - and there is growing discontent at the way MSNZ and TMC manage the sport. Part of that is down to a lack of transparency.
Car clubs often wonder where the money goes. MSNZ and TMC accounts are available - but are presented in such a way that key detail is obscured, sources said.
Scratch the surface of just about any racing or car club organisation under this umbrella and complaints flow about unknown salaries being paid to key people, as do suspicions about travel, entertainment and general expenses being over the odds.
Many wonder why MSNZ have only one director on the TMC board.
They feel that TMC is given too much free rein and looks after their own while new, independent organisations such as Hampton Downs and the V8 Supertourers - the breakaway racing series against which the NZV8s are taking legal action - are, if not frozen out, then made decidedly chill.
There are also suspicions that TMC, after years of being a cash cow, is now striking harder times. Opposition is growing to a parent body which, some sources say, cares about motor racing deeply but may not be handling the business side of the sport well enough; they are too involved in protecting interests like the NZV8s and the Toyota series - and tracks that host such events.
One source told the story of MSNZ rules applied to Hampton Downs, where contestants in races were told they had to do a two-lap warm-up instead of the customary one before a race as practised at tracks backed by TMC and MSNZ.
"When you do that, you strike at the ability of a track to do business," the source said. "You get revenue by fitting in as many races as can safely be managed in a day. If you have to do two-lap warm-ups before each race, you knock about 45 minutes or an hour of racing off the day, meaning less income.
"When MSNZ were queried about this, they said it was down to health and safety but then changed their tune and said it was because the entry to the track was after the start-finish line.
"Well, that was bullshit too, because virtually all the tracks in New Zealand apart from Teretonga have the same entry to tracks. So they revoked the edict - but it does make you wonder about their motivation. And why are they regarded as competition? Surely something like Hampton Downs should be taken into the fold as a new asset for motor sport - not treated like an outsider."
The website The Roaring Season often contains discussions of issues like these - and is where moves to shift MSNZ's focus away from the sport's commercial elements have been revealed.
"The principal issue," said another source, "is that a regulatory and administrative body like MSNZ should not be involved in the commercial aspects of motor sport. It can only lead to a conflict of interests or accusations that they might be swayed by commercial interests. They should be overseeing the development of all motorsport here through regulation and administration. Why should these guys be concentrating on V8s and the like when other aspects of motor racing are largely ignored; getting little or no support?"
Part of the dissatisfaction is also that both MSNZ and TMC are not-for-profit organisations but any money made is not returned to the clubs.
One of the main things held against Hampton Downs is that it is supposed to be too short to host the V8 Supercars event - the ITM 400 to be held in Hamilton this week but which will disappear from New Zealand if a suitable venue cannot be found. 'Suitable', sources say, means getting approval for a fee of about A$2m to be paid to V8 Supercars, an Australian organisation, for selecting the venue.
The veteran track at Pukekohe is favoured to win the event - but probably only if the public purse is prised open to find that A$2m.
"The joke is," said one source, "that Pukekohe is only about 100m longer than Hampton Downs - which can't afford to pay that kind of money. But Pukekohe also needs millions spent on it to make it safe for racing - so why not spend the money, less money, on the newer track?"
Another source said: "I know that MSNZ have been sitting down with V8 Supercars and telling the Super City council that the best thing for the sport is for the V8 race to move to Pukekohe. No, it isn't. What's that about?"
The answer is money - most motor racing enthusiasts agree that the V8 Supercars care less for a track or the good of the sport and more for the hosting fee they get paid.
The V8 Supertourers spokesmen would not comment on their breakaway from MSNZ and TMC but another source said: "They are taking the star drivers and that's the big difference. It's not the cars people come to see - it's the drivers. They [V8 Supertourers] are successfully signing up cars and drivers, while the NZ V8s are down to only about eight cars that drive through the whole season - even though they might get 12-15 cars on the grids at various events.
"You have to ask yourself why the Supertourers felt they had to leave the fold to succeed. In the end, sponsors start to look at that and want to go where the stars and the crowds are - the Supertourers got the biggest crowds at Ruapuna for about 10 years. Yet our motor racing body is trying to outlaw them to look after their own commercial interests.
"That sort of thing is stuffing motorsport here."
The president of MSNZ, Shayne Harris, said TMC had been set up after the car clubs insisted that a commercial entity act as a barrier against the kind of debt that the sport faced - and which had to be paid by the clubs - after the Wellington street race a few years ago. "So it was the clubs that wanted that commercial body in the first place."
He also disputed that MSNZ had not been supporting Hampton Downs. "We took the Toyota Racing Series and the international TRS and other events to Hampton Downs," he said. "So it's wrong to say we are not supporting them just because we haven't taken the V8s there.
"The tracks which host the V8s [including Pukekohe, Manfeild, Ruapuna and Teretonga] are minority shareholders in TMC and the agreement is that TMC will promote events at those circuits - because that is supporting the shareholding." Hampton Downs had never asked for shareholding to become part of that arrangement.
Harris also said: "We have had no discussions with V8 Supercars about any venue after Hamilton. We understand that V8 Supercars are talking to the Government and the Super City - but we have had no approach from them."