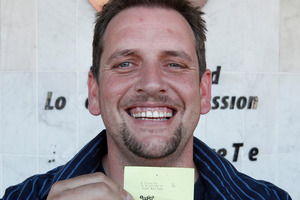 Come on down, champ. Paging Trevor from Te Kauwhata.
When you float back down to the real world, how about bringing some of that $26 million Powerball loot and buying the Blues.
At first glance it might not seem a good investment, but with the Blues' one-from-six record so far this season, they might go for a bargain-basement price.
You were born in West Auckland and love speedway, so maybe you could make Western Springs your personal HQ as you combine the men who wear leather and those who kick and clap it.
Make the NZRU a compelling offer to buy the Blues rather than the odd three-year rental scheme they are touting at the moment.
Why would you want to rent the Blues or any franchise when the NZRU retains control over the broadcasting and commercial deals tied in with the competition?
In return for a lease arrangement, the NZRU will cede naming rights and several other associated activities to give the leaseholder a chance to make some gains.
You only have to think back to the World Cup model and this seems a version of that scheme which cost New Zealand almost $40 million.
It does not sound a particularly strong financial incentive although every franchise, except the Highlanders, is apparently keen to do some sort of deal.
Only the way-too-rich and sight-impaired would seem to be candidates for such a scheme. There may be those who want the kudos of being attached to a rugby team, but not many, I'll bet, would want the stigma of leasing the Blues on their books. But buying them might be a different story.
If someone like Trevor wants to do such a deal, then he should be encouraged. We hear a rising whine from the NZRU about the tough financial squeeze they are in, so why not let some wealthy sports nut help?
There would need to be conditions of course, but not the sort of restrictions the NZRU are touting. Owners should be able to buy teams and players they want and then, at last, they would be free from the overlapping interests we currently see. In the Blues' case, Auckland could be left to run their provincial side out of Eden Park while an independent Blues management and staff would operate their Super 15 business from elsewhere.
No conflict of interest, no inter-provincial bickering, no duck-shoving responsibility. Are you listening, Trevor?