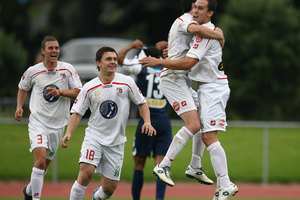 In something akin to the dance of the desperates, Waitakere United and YoungHeart Manawatu will be keen for some early Easter joy when they line up for their last ASB Premiership regular season game tomorrow.
Scraping the bottom of the barrel has been given a whole new meaning with coach Neil Emblen having to name himself as one of the bench players - something he has resisted this season - following a horror run of suspensions, injuries and transfers which has left him struggling to fill out the team sheet.
Ross McKenzie, Chris Bale and Matt Cunneen are serving one-match suspensions, Roy Krishna (hamstring) and back-up goalkeeper Matt Upton (concussion sustained at Tuesday training) are injured while Gagame Feni, Steven Holloway and Andy Bevin have departed which leaves Emblen with a bare squad and no back-up goalkeeper.
He must also turn around what has been a miserable league season. Their premiership hopes hang by a thread and their chance of a crack at the O-League is to be decided on April 15 when Ba play Tefana at Bill McKinlay Park, in the flood-disrupted affair.
For Manawatu coach Stu Jacobs there are other concerns like losses by 4-0, 6-1 and 7-2 in the last three encounters with Waitakere. Jacobs must also make do without suspended striker Seule Soromon, aware that unless they claim all three points they will be the first Premiership team to end a season without a win.
And, unless they win, they will also end the regular season with the least points in the league's eight seasons.
The remaining two games, between Canterbury United and Auckland and Hawkes Bay and Team Wellington will be played on Sunday.
Meanwhile Waitakere United chairman Rex Dawkins has expressed his disappointment with the decision to play the outstanding O-League game on the Bill McKinlay Park artificial pitch.
"That is heavily in Tefana's favour as they play all the time on artificial," said Dawkins. "It was like the OFC decision not to allow us to postpone our game to be played at the same time. It seems Waitakere are not being given a fair go."
In Port Moresby, the New Zealand women followed the men in booking their Olympic place, with another comprehensive win over Papua New Guinea in the second leg of the Oceania qualifiers.
Following their 8-0 first leg win in Whangarei on Saturday, the Football Ferns led 4-0 at halftime in Port Moresby before running out 7-0 winners to claim an aggregate 15-0 victory.