Former world speedway champ is a Danish celebrity and a really happy chappy.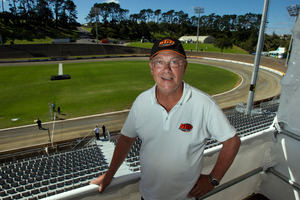 At Western Springs Speedway on Wednesday everyone said: "Are you coming on Saturday?" and they said it as though they really wanted me to come on Saturday.
A tiny man presented me a ballpoint pen with Veteran Speedway Riders Assoc printed on the side. He said: "Come around on Thursday. The wife's out."
What a friendly lot these speedway people are, I thought. Boy, they really seem to like me a lot! I thought. Look at the way their eyes light up when they see me. This was all nonsense of course (except for the tiny man), it wasn't me they were in love with at all, it was the chap I was with: Ole Olsen, former world speedway champion, now international motorcycling federation speedway director of sports, Danish celebrity, absolute sweetheart and happy person.
"I am! I feel very good. Particularly with you around!" What a lovely thing to say! Now I know why people's eyes light up when they see him. Just being around him makes you happy.
On Saturday he will be even happier, if that is possible. It is the day Western Springs hosts its first world grand prix round, on the brand new track, redesigned by the man everyone wants to meet.
It will, I predict, be a fantastic night. His favourite word is fantastic. His parents were, "oh, fantastic!", his sons are "fantastic!" his wife is "fantastic!" He's a walking, talking exclamation mark. He said: "I know when to shut up!" We both laughed our heads off at that. He said: "And now I've talked too much to you as well!"
I'd have been the only person at Western springs on Wednesday who had never heard of Ole Olsen until this week. I'll bet they all already know that he can talk as fast as he used to ride motorbikes.
"He's a rock star in Denmark!" the publicist said. I thought she'd lost her marbles, until I Googled him. He is like a rock star in Denmark. "I wouldn't say that!", he said, but he is. I saw some pictures on the internet. One was of a motorbike, completely plated in 24 carat gold. This is not something you see every day, and to see it, in the flesh, as it were, you'd have to go to the lobby of the Hotel Norden in Haderslev, Denmark, which is his home town.
The bike is the one he won his 1971 world title on and here is how it ended up in a hotel lobby, covered in gold: A famous Danish artist, and bike speedway nut, Robert Jacobsen - "Have you heard of him? He's world famous!" - phoned one day and said: "'I want that bike.' And I said: 'I want to know what you're going to do to it!' Because he's the one who chops everything in half and then welds things back together. And he said: 'Oh, you'll be so proud of it. I've got to have that bike.' So I gave it to him and he had it 24 carat gold-plated! Every bit of it!" And what does he think of it? "Oh! Fantastic!"
This is how famous he is in Denmark: There was an Ole Olsen wax work at the Copenhagen Madame Tussauds for 12 years. He stood between Bjorn Borg and Muhammad Ali. Then did they melt him down? "No! I've got him!" He now lives in the loft - where he once gave a cleaning lady a hell of a fright - but when he first arrived, his two boys played a top prank and put him in their parents' bed, which is exactly the sort of stunt their father might have pulled.
He said: "And then I was knighted by the Queen!" So he is Sir Ole. "Yeah!" Shouldn't I have been calling him Sir then? "Oh, doesn't matter!" He doesn't have the Sir, which in Denmark is an R, on his business card, so I altered it for him, which made him laugh. He doesn't use the title in Denmark either, to get a good seat in a restaurant, say. He doesn't need to because everyone knows who he is. "Yeah!"
The other thing he loves, other than speedway - a Danish newspaper once wrote that he had three sons: One named Jacob, one named Torben and the third named Speedway - is hunting. The other picture I saw on the internet was of him holding a gun, standing in a room decorated, if that's the right word, with what seem to be hundreds of mounted deer heads, and a stuffed fox.
He lives, I read, in a luxuriously converted farmhouse in Denmark. "Well, you know, it is a nice house!" In the country? "Oh, yeah. I love to hear the birds in the morning." He's spent his entire life making a racket! "Yeah!" Is that why he lives in the country? 'It might be, yeah. It's the contrast to all the noise and the razzamatazz and I can see the sun come up and I can smell the forest and see a deer ..." Yes, and then he comes along and kaboom! No more deer.
"No, no! I let it go." Really? "But if it's the right one I'll shoot it!" I said, about the dear little fox: "What did that fox ever do to you?" He looked a bit hurt and said he likes foxes, "they're nice", and that hunters are good for the environment, and "we only ever shoot the excess, you know." I was only teasing. "I know you were!"
Anyway, he has all of those animal heads in a special trophy room because his wife, I assumed rightly, didn't want to look at them. "No, and she never liked the [speedway] trophies in the house either. She said, 'I don't like that stuff'." I've got over 600 trophies!" I assumed, again, that she didn't like them because she thought they were ugly. "Yeah and some of them are too! Ha, ha. But you've also got to polish them."
Who did the polishing? "My mother. When I first won one it was that size," he said, holding up one finger, "and my mother said, 'you keep bringing them back and I'll polish them!' But she soon stopped! It was too much."
He's won a few here. His other great love is New Zealand and he's been coming since the 70s when he was probably as famous here as a speedway rider as he was at home in Denmark. When he first came he flatted with three New Zealanders and they taught him English by taking him to the pictures and telling him, at interval, to go and get three icecreams. So he trotted off and asked for the "free" icecreams, to the confusion of the icecream seller, while his mates fell about laughing.
I asked what the difference between Danes and New Zealanders is and he summed it up like this: "No worries! She'll be right! Don't worry!" That's not the Danish character. "No! We are used, when we order something, it comes on the spot."
He is still, all these years on, much tickled by this and he says, "no worries", and "she'll be right" at the drop of a hat, and laughs his head off every time.
This time, he's been here for three weeks and people turn up at Western Springs all the time with things for him to sign. He's very happy to sign things and he said, when I asked if he enjoyed the adoration: "Well, it's worse if they said, 'I ain't going to say hello to that bastard!"' He says he has never got a big head and that this is because in Perth, in 1970, he went swimming with an Australian speedway rider and he asked him: "'Do you think I'll be world champion?' And he jumped on me and held me under. And I thought, 'shit! He's got a bloody sun stroke or something.'
And then when I came up he said, 'I think you can'. And I said, 'what did you do that stupid thing for?' And he said, 'well, if you want the thing you have to fight for it'." So if he'd drowned, too bad, that would have proved he hadn't wanted it enough? "That's right! 'Sorry about the boy!' Anyway, he said to me: 'Ole, you've got to reach for those stars but keep your feet on the ground' and I have always had that, and that is good."
He went on to become world champion three times. It helped that he has always been ferociously competitive, in all aspects of his life. "Well, I don't like to lose at Ludo, if that's what you mean."
His competitiveness extends to, of all things, butter.
He and his great track rival, and mate, New Zealand former world champ, Ivan Mauger, have been having a row about butter for years. How did we get on to this? Don't ask me.
He was telling me a story about something else altogether when he said: "We've got the best butter in the world." Much, much later I said: "What's this about the butter?" And he said, "Ivan Mauger! He always says: 'The best butter is Anchor butter and it comes from New Zealand.' And I say, 'Ivan, the best butter is Lurpak and it comes from Denmark. You have to learn that.' And he says: 'No. It's not.' And then I go one day and rip his fridge open and what's in there? Bloody Lurpak! So I said to Ivan: 'What the hell's this, Ivan?' And he said: 'Yeah, I'll tell you what Ole ...' because he always has an excuse, him, so he says: 'I'll tell you what. New Zealand has the best butter in the world but when they ship it to England they have to put a bit of extra salt in it for it to last, so that's why I don't like it so much.' I said: 'What a load of bullshit!"'
There were many more, ever more fabulous stories of how he's got one over Ivan over the years including one about how the Danes founded New Zealand and how the proof is that there's a Danish island called Sealand - he even drew me a map to prove this entirely invented theory.
"And when we found this place, we call it New Sealand! Ha, ha, ha! I just give him a bit of verbal! Now, what the hell was I going to tell you?"
How the hell would I know? I gave up trying to interview him about five minutes after I met him. And who could possibly mind? He went off to have his picture taken shouting: "No worries! She'll be right! Ha, ha, ha," as he went. What a fantastic fellow he is!