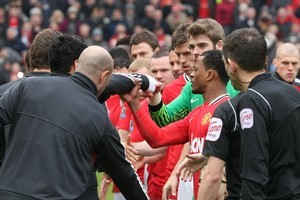 Just a minute, what's that tiny, pea-shaped thing over there? Why, it's Luis Suarez's brain. What's that even tinier pinhead-shaped object? That'd be John Barnes' brain ...
Suarez is the Liverpool striker at the centre of the racism storm that has surrounded him and Manchester United fullback Patrice Evra.
Barnes is the former Watford, Liverpool and England winger, now a TV pundit. Both of them have appeared, in different ways, to have the IQ of a turnip.
Suarez caused outrage last weekend when he refused to shake hands with Evra as Manchester United and Liverpool - traditional and often bitter rivals - lined up ahead of their Premiership clash, won 2-1 by United.
Suarez was returning after eight weeks suspension earned after he was judged to have racially insulted Evra in a previous clash.
As the two lines of players converged for the ritual handshakes before the match, Suarez studiedly ignored Evra's hand - out-stretched, waiting for the clasp that would have buried the whole sorry issue.
As Suarez moved on, Evra attempted to grab his arm back to force the handshake but Suarez shook it free and continued down the lines, shaking the hands of other United players.
What a plonker.
With one motion, the whole weeping sore could have been closed. With one motion, Suarez laid it open again, cutting close to the bone.
No official action is being taken by the Football Association or anyone else. The FA's excuse is that the handshake is not an official part of the game and therefore no further censure will be coming as far as Suarez is concerned.
That's code for "let's not let this thing drag on".
Barnes? He was quoted as saying that the media had blown the whole incident out of proportion and that Suarez should not have been asked to shake hands before the match.
What a plonker.
Barnes is a strong anti-racism campaigner but said too much had been made of the handshake before the match, adding: "I don't care if someone shakes my hand or not. It's not a big deal, it's insincere, it doesn't mean much, they're shaking hands for show. I don't believe they should be put in that situation."
Uh, John ... you might have been a fine football player but you're not a member of Mensa, are you?
Stephen Hawking probably doesn't drop around to your digs to discuss the universe. You might think innuendo is an Italian suppository.
It's the media's fault? It wasn't the media who uttered words that Evra took to be racist. It wasn't the media who supported Suarez by turning out in t-shirts with his name written on them - that was the Liverpool team. It wasn't the media who defended Suarez vigorously, to the point where it became embarrassing. That was Kenny Dalglish, Liverpool legend and current manager. It wasn't the media who refused to apologise directly to Evra and then inflamed things by refusing to shake his hand.
And, uh, John ... the handshake isn't just for the players. It's a signal that this is sport and that the sporting spirit - you know, respect your opponents while doing your damndest to beat them and maybe even have a friendly drink afterwards - is alive and well; it is part of taking the game to the millions of kids who watch; so they can see it is not all football hooliganism, tribalism, chants and racial abuse ...
If anyone has any doubt about the impact of all this - please pay attention all those who cling to the dropkick notion that famous football players, All Blacks and other sporting heroes are not role models - how about the incident the very next day after the Suarez non-handshake? As Manchester City and Aston Villa prepared to do battle, a seven-year-old boy and Villa mascot appeared to ape the Suarez snub, failing to shake the hand of another seven-year-old, a mascot for sponsor Barclays Bank.
Someone uploaded the video to YouTube, where it has had well over 500,000 views. In truth, this probably is a bit of a media beat-up. A Villa spokesman said later that the missed handshake was just a mistake as the boys, overawed by the occasion, interacted happily before and after the shaking hands business.
But the point remains - over 500,000 views shows how much the acts of the footballing rich and fatuous can roll on down the line, influencing hearts, minds and mischief.
Liverpool have acted poorly in this whole saga.
Their judgement was shown to be flawed as they supported Suarez past the point of wisdom and into the unlovely territory of stubborn blindness.
Dalglish even exploded during a TV interview after Suarez's non-handshake.
He had missed the incident and gave the reporter a burst - later apologising when he realised what had happened.
Some said the apology by Dalglish and then Suarez came only after their £81 million sponsor got involved - though the club deny this.
Dalglish's own image and reputation has been sullied. By pretending to go along with the handshake before the game but then pulling his hand away, Suarez effectively showed that Dalglish had lost control of his player.
No manager or coach likes that to be made quite so public.
Suarez has form - he used his hand to stop a goal during the 2010 World Cup and then celebrated when the resulting penalty missed and he was known as the "Cannibal of Ajax" when he bit an opponent. And that was when he was captain of Ajax ...
No, Suarez deserves to be helicoptered out to the middle of the English Channel, dropped out and told to swim home to Uruguay - but he is a talented player and it remains to be seen if Liverpool move him on at the end of the season.
Dalglish, too, has a question mark over his future, though that is probably more to do with Liverpool's lacklustre seventh on the table this season.
Anfield has not been a fortress, there have been too many draws there and the fearsome aura that once surrounded The Kop is more like The Flop these days. Liverpool have managed only 29 goals in 25 matches this season. Only six clubs, most in or near the relegation zone, have scored fewer.