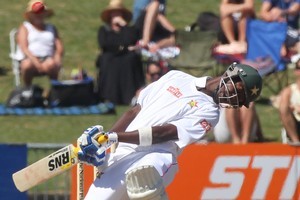 For all the highs the New Zealand cricket team has experienced during the past few months, there's one black mark on the score sheet that still makes for ugly reading.
It's not the nine-wicket hammering they copped in the first test in Brisbane against Australia in December - sure, that was bad, but Aussie on their home soil were always going to be tough.
What's worse was New Zealand's failure to defend 328 in a one-day international against Zimbabwe in Bulawayo in October.
Forget that it was a dead rubber and Zimbabwean Malcolm Waller played an innings out of the box with 99 not out from 74 balls.
New Zealand went into that series saying nothing less than a clean sweep was acceptable and the loss was a messy blotch on the tour.
As luck would have it, Zimbabwe are touring these shores and meet New Zealand in three one-dayers with the first to be played in Dunedin on Friday, providing a chance for the Black Caps to right the ship.
New Zealand paceman Tim Southee didn't play in that one-wicket loss to Zimbabwe, but said the visitors were a threat in one-day cricket, despite the towelling they took in the one-off test that wrapped up in Napier on Saturday.
"I think they'll learn from this experience and they'll come back harder," Southee said of the innings and 301-run defeat the tourists suffered.
"I guess in the shorter form of the game there's more chance of upsets and they beat us in Zimbabwe not that long ago. So they'll feel that they'll be confident. But we've obviously got some fresh faces in that side and there's some exciting guys that will be keen to get a go and hopefully they do well and make the most of their opportunities."
Yesterday New Zealand coach John Wright revealed his new-look one-day and Twenty20 squads to meet Zimbabwe and as Southee pointed out, there's some new boys on the block.
Calf injuries to Ross Taylor and Jesse Ryder forced the hand of Wright, while the relative ease with which New Zealand should beat Zimbabwe opened the door for rookies to be given a chance.
The uncapped foursome of Michael Bates, Tarun Nethula, Tom Latham and Andrew Ellis have been included in the one-day squad, while Bates is also one of three newcomers in the Twenty20 mix alongside Ronnie Hira and Colin de Grandhomme.
Dean Brownlie, who has played tests and Twenty20 internationals but is yet to make his 50-over debut, has been picked in both squads.
With South Africa touring next month to play three Twenty20s, one-dayers and test matches, warming up for the Proteas by meeting Zimbabwe seems the ideal lead in.
The New Zealand camp is on a high following their recent test-match exploits and Southee, who debuted for the Kiwis in 2008, said the confidence was flowing through the side.
"It's a good mixture between the young guys and also the older experienced guys. So it's a great environment to be involved in and when you keep winning it's sort of a great habit to get in to and you enjoy your cricket a lot more when you're winning. So it's a pretty good camp to be involved with at the moment."
Brendon McCullum will captain New Zealand in the absence of Taylor, who wants to return to the fold by the first one-dayer against South Africa in Wellington on February 25.
New Zealand ODI squad: Brendon McCullum (captain), Michael Bates, Doug Bracewell, Dean Brownlie, Andrew Ellis, Martin Guptill, Tom Latham, Nathan McCullum, Kyle Mills, Tarun Nethula, Rob Nicol, Jacob Oram, Tim Southee, Kane Williamson.
New Zealand T20 squad: Brendon McCullum (captain), Michael Bates, Doug Bracewell, Dean Brownlie, Colin de Grandhomme, James Franklin, Martin Guptill, Ronnie Hira, Nathan McCullum, Kyle Mills, Rob Nicol, Jacob Oram, Tim Southee, Kane Williamson.

- APNZ