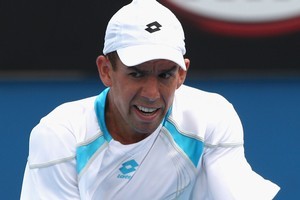 Many have made the leap from the court to the commentary box but Dominik Hrbarty will be taking it one step further today and could be heading for a world first.
In Auckland as an analyst for Sky TV, the former Heineken Open champion decided to enter qualifying on a whim and won his first round match yesterday. It will make for a frantic day for the Slovak today. He is set to commentate on today's ASB Classic final at 11am before racing across town to Albany to play in his second round qualifying match, scheduled for 2pm.
It feels a little like Justin Marshall wandering down the steps at Eden Park to fill in for the Crusaders, or Mark Richardson abandoning the Sky commentary box and heading for the crease alongside Martin Guptill.
"I entered for fun," says Hrbarty. "I'm not expecting anything special. In the beginning [yesterday] I was not feeling the ball that well because I had not practised for a long time."
While Hrbarty watched plenty of tennis last week, he had not hit a ball for a month and his last competitive match at ATP level was the 2009 US Open, where he lost in qualifying. His career high ranking was 12 and he won six ATP singles titles, including Auckland in 2001 and 2004. He did play two challenger tournaments last year, which kept his ranking at 707 - high enough to sign in for qualifying.
After a few rallies with some of the female players last week, he had a practice match with world No60 Carlos Berlocq on Friday which encouraged the Slovak to take a punt and enter.
Yesterday he beat 89th ranked Pere Riba 6-4 6-2 - the Spaniard who was ranked as high as 65 in May last year and was the fifth seed in qualifying. In Riba's defence, he only arrived in the country at lunchtime yesterday but must have been shaking his head when he saw his opponent.
"I think these guys are fine with it - it's tennis. You have to deal with it. They know I am not someone who has just come out of the blue sky. I have something behind me," says Hrbaty, adding that he was nervous yesterday, especially in serving out the match - but managed to send down two aces to win.
"I thought if I have the time and opportunity why not give it a try? To beat a top-100 player is not that bad. I really played well and pushed him all the way."
Today Hrbarty will face Russian born Kiwi Artim Sirtak (434), who beat American Denis Kudla (276) 6-3 6-7 (5) 6-0 .
"I have practised with him a few times," says Hrbarty of Sirtak. "He has a big serve and can hit hard. It will depend how tired I am and how solid he is. Normally if he plays well and I haven't practised that much then I should not stand a chance, unless I play really well like [yesterday]. In my situation it is hard to be consistent."
If Hrbarty beats Sitak, he will likely face Frenchman Adam Mannarino (ranked 87 in the world), the third highest player still standing. If he then qualifies for the big show, he will need to juggle commentary with court time and he is promising some special features out there.
"If I qualify maybe you will have the experience of something that has never been seen before on the ATP tour."
Hrbarty declined to elaborate but it's understood that Sky is contemplating putting microphones on court - probably beside Hrbarty's courtside seat. That would need to be approved by the ATP. It is believed they have also asked tournament organisers to put a potential Hrbarty match on centre court.