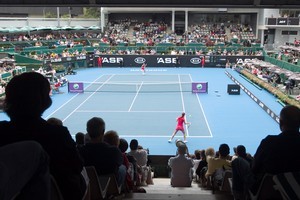 Many Kiwis at the ASB Classic yesterday were quietly cheering Sasha Jones' decision to switch allegiances to Australia.
The 21-year-old wildcard stepped out onto centre court yesterday to face Great Britain's Elena Baltacha six days after Tennis New Zealand confirmed the number two-ranked women's player would soon be moving across the Tasman.
Many tennis lovers told the Herald they understood the financial incentives to move to a bigger country which would provide higher levels of support. Papakura's Keith Billot said he backed her gutsy call.
"She's got to do it while she's still young, if that's what success takes."
His wife, Carole, said it didn't matter what country the 21-year-old played under: "In her heart she'll always be a Kiwi."
Ten-year-old Elizabeth Andre, a Canterbury age group champion, said she was disappointed about the defection but that didn't dampen her excitement about watching the action, including her other Kiwi favourite Marina Erakovic. She had come north with her parents - who had treated her for Christmas - and was decked out in a pink tennis outfit and flashy new shoes to watch the tournament.
Earlier in the day Julie Worthington was with friends who had sorted their possies on the unforgiving concrete grandstand and caught the last of qualifying on centre court.
All three had come prepared with cushions and padded beach chairs. Ms Worthington, who also had a back support, said there was no other way she could survive the action and her seat, which was bought for a bargain at $30.
"You've got to have a bit of padding for the bottom, a hat and some sunscreen, otherwise you cook up here."
Glen Sibley, 30, was also up from Christchurch for the tournament. It was a great way for the tennis lover to escape his shaking city, which was hit by around 41 quakes in 24 hours, most of them yesterday.
He was looking forward to catching fourth-seed Flavia Pennetta in action and although he had bought his tickets before Venus Williams had pulled out he wasn't upset or surprised about the former Wimbledon champion's no-show due to health reasons.
"The sisters are chronic at pulling out of tournaments."