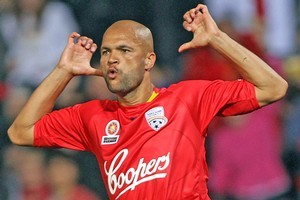 He copped one of the more unusual yellow cards during Adelaide's A-League win, but United striker Sergio van Dijk at least saved himself from other coloured embarrassment on Friday night.
The Dutch striker suddenly sprinted from the ground - without telling the referee, his coach or teammates - with about 10 minutes to go in United's 2-0 victory over Wellington Phoenix.
Van Dijk bolted for the player's race and disappeared from sight at Hindmarsh Stadium - stunning his bench.
"He just took off," a bemused Reds coach John Kosmina said.
Van Dijk was mysteriously absent for a couple of minutes, before running back onto the ground - and being yellow carded by referee Chris Beath for the unexplained absence.
Van Dijk, it was later revealed, was desperately suffering a stomach bug.
"He said he couldn't wait any longer," Kosmina said.
"It could have been a horrible sight on the television."
- AAP