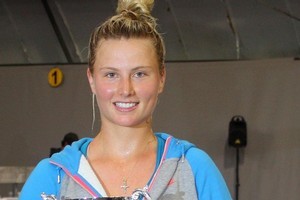 What could have been a mismatch proved to be a decent contest last night as Sacha Jones took an hour to win the NZ Tennis Championship singles title against Leanne Baker.
However, the reasonably quick match did not reflect how the 21-year-old was forced to battle against the former Kiwi No 1 and now retired 30-year-old left-hander Baker who coaches in the United States and previously won the singles title at the event seven times.
For Jones, it was her second national senior title, the first coming in 2007, and the player ranked 231 in the world was satisfied with her 6-4, 6-3 victory.
"It was quite difficult playing a lefty and also playing inside ... I haven't played too many lefties lately, especially indoors, when I've been practicing outdoors," said Jones.
Baker started well in front of a good-sized crowd at Albany Tennis Park.
She served her first game to love, took Jones to deuce in the second game and then won her second service game for the loss of just one point for a 2-1 lead.
Jones took control as she hit with too much depth for Baker, winning two games in a row for a 3-2 lead but the run of play changed again with Baker taking the next two before Jones took the set 6-4.
In the second set, Jones never looked like dropping the lead.
In the late men's singles final second seed Rubin Statham won his second national title with a hard-fought victory over top seed and fellow Davis Cup player Artem Sitak in two tie breaks.
He won the first tiebreak 7-3 and the second 7-2.