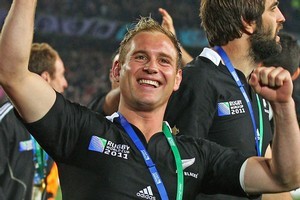 Andy Ellis' plans to help demolish Rugby League Park's old grandstands were stymied by health and safety regulations today but the Crusader is looking forward to be the one calling the shots at the franchise's new home ground next season.
Media were invited to the ramshackle old ground in Addington, Christchurch, to watch Ellis and Canterbury coach Rob Penney behind the controls of a wrecking machine but instead had to be content with watching them pose in fluorescent gear for safety reasons.
Work on getting the ground ready for the Crusaders' first home game of the 2012 season - against the Chiefs on March 9 - has been ongoing for several days and Ellis is exciting about the prospect of having a base after a season on the road in 2011 following the Canterbury earthquakes.
"This year not having a home was really tough," Ellis said. "When it was announced that our new home ground would be at Addington, everyone was really excited.
It will be great to be able to sleep in your bed the night before a game and prepare properly during the week - all the things you take for granted normally."
Two old stands are to be flattened and replaced by state-of-the-art temporary structures with new floodlights and turf.
The Government is to underwrite the $20 million construction of the new stadium, which will seat about 19,000 and be football specific, rather than the generic AMI Stadium which was severely damaged in the earthquakes and has an uncertain future.
"The crowd will be so close to the game - a bit like the European grounds. The atmosphere should be amazing," Ellis said.
Ellis, who today also played in a pro-am challenge at Clearwater on the outskirts of Christchurch ahead of the New Zealand Golf Open which starts tomorrow, said he had enjoyed some time off following the World Cup but was mindful of the fact he would have to get back into training soon.
Ellis and his fellow All Blacks are due back on deck at their respective Super Rugby franchises in early January.
The Crusaders, who were beaten in this year's Super Rugby final by the Reds in Brisbane, kick off their season against the Blues at Eden Park on February 24.
- APNZ