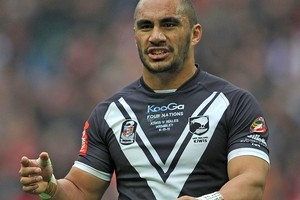 The Warriors have signed Kiwi utility Thomas Leuluai on a three-year deal starting in 2013. The 26-year-old will move from Wigan at the end of the next English Super League season.
Warriors coach Brian McClennan says Leuluai will provide value with his experience and playmaking ability, despite still being just 26 - he'll be 27 when he arrives.
"He is an outstanding performer for Wigan and has established himself as a vital player for the Kiwis. Being capable at six, seven or nine makes him a big match player, as he has proved winning the World Cup and Four Nations finals with the Kiwis as well as the Super League grand final and Challenge Cup final with Wigan."
It poses the question about where Leuluai will fit in. Five-eighth, as back-up to James Maloney seems the logical answer, provided Maloney is re-signed beyond next year. That assumes the club has signed Pita Godinet and Alehana Mara as medium-term first grade reinforcements at halfback and hooker for Shaun Johnson and Nathan Friend.
Much depends on Maloney's future.
Warriors recruitment manager Dean Bell says the club is doing what it can to retain the five-eighth.
"We're in discussion with James and his manager about a contract beyond 2012," Bell says. "We're committed to extending his time with us."
McClennan was of a similar mindset: "James has developed into a top-quality player since he joined. He has been talking to other clubs, as is his right, but he knows we want to keep him."
Leuluai presumably provides the high-profile cover the Warriors are looking for. There is little more he can achieve in the game in Britain.
He helped Wigan to Challenge Cup glory when they beat Leeds in August. Last year he was man of the match when Wigan beat St Helens to win the Super League grand final at Old Trafford. He has now played 195 Super League games.
Leuluai has played seven seasons in England so it is natural for him to want to return home for another stint in the NRL. It could also lead to more regular Kiwis appearances.
Leuluai played for the Warriors in 2003 and 2004 but has turned out for the London Broncos, Harlequins and Wigan since.
As the son of 1979-86 Kiwi James, Leuluai passed his father's 29-test tally in the Four Nations loss to England last weekend.
At the time of his NRL debut in 2003, Leuluai was the youngest player to appear in a first-grade match for the Warriors.