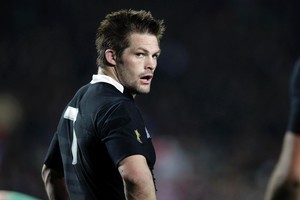 All Black captain Richie McCaw will have a screw removed from a bone in his right foot next Thursday. Photo / Dean Purcell
The Crusaders are expecting a different Richie McCaw in 2012 following his foot surgery next week. For a start, he should be able to train and string more than two games together, which will be a relief for the player and the franchise.
McCaw is scheduled to undergo surgery on his right foot to remove a screw from the fifth metatarsal bone on November 24. The pain from the screw, inserted at the start of the year after an injury he picked up in a fitness test, almost wrecked his World Cup following a stop-start season with the Super 15 finalists.
The All Blacks' captain got through the latter stages of the World Cup virtually without training during the week which was a testament to his fitness as well as his importance to the side.
This season, McCaw played in only six of the Crusaders' 18 matches. He missed the first six weeks of the competition after the troublesome screw was inserted, then had to sit out another week after his return match against the Chiefs.
It was a pattern to be repeated over the course of the season - made worse by concussion which kept him out for a further two matches - though he was available for the semifinal against the Stormers in Cape Town and the final against the Reds in Brisbane, which the Crusaders lost.
It was a frustrating year for McCaw and also Crusaders head coach Todd Blackadder, who said he was expecting his captain to once again be a force to reckon with when he regained his fitness through a proper pre-season training regime.
"He will get a really good base and will be as fit and strong as ever," Blackadder said.
"He hasn't been able to train or function normally all year. We just had to manage him. That was probably highlighted in those high-pressure [Crusaders] games when he wasn't as sharp as he could have been and that's fully understandable. I think for him next year he'll be absolutely good to go."
While rehabilitation is expected to take up to three months, McCaw will have plenty of time to get his body ready for the rigours of Super 15, which will be a unique experience for the 30-year-old.
McCaw normally has a brief rest after the All Blacks' end-of-year tour to the United Kingdom, before pulling the boots on once again with the Crusaders. This year he was due to start the Super 15 competition late anyway because of a clause in his contract which allows for extra rest in lieu of a sabbatical.
That will apply again in 2012, but McCaw is expected to be available for the Crusaders in mid-March once fully fit. The Crusaders play their first match of the new Super 15 season on February 24 against the Blues at Eden Park.
McCaw is a notoriously hard trainer and especially keen on keeping his running mileage up. It was a curious twist that he suffered the original foot injury while undergoing a fitness test for the All Blacks in Christchurch at the start of the year.
He is one of the fittest in the All Black squad in terms of his endurance, and he is known to score very highly in a separate test which measures lactic acid build-up.
But Blackadder said McCaw would not be urged to cut back on his running in an effort to avoid further injury. "He definitely knows his own body," he said.
McCaw's year is shaping up to be a busy one. The expanded Super 15 competition takes a break in June to accommodate the three All Black tests at home against Ireland.
Two weeks after the August 4 Super 15 final the "Rugby Championship" including Argentina (formerly the Tri-Nations) begins. The All Blacks play another Bledisloe Cup test match against Australia in Brisbane in late October before travelling to the United Kingdom at the end of the year.
In all they will play 14 tests next year.
- APNZ