After a fabulous tournament, Gregor Paul looks ahead to 2015 and suggests 20 things that need to change for the next Rugby World Cup to be just as good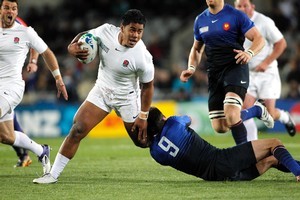 1 England need a massive clean-up
England were a shambles on and off the field and the World Cup was a lesser tournament for their ineffectiveness. As hosts in 2015, they have to be strong and play to their potential.To do that, they quickly need to sort out two things.
The first is to rebuild an executive team at the RFU- find a chief executive who can restore order. Relationships with sponsors are strained and someone needs to create a route for the team and for the wider administration/ finance and standing of the game to be in peak shape by 2015.
The second key goal is to sort out their coaching situation. Is Martin Johnson the right man to continue? If so, surely he needs to ditch his assistants and work with Shaun Edwards, who is off contract with Wales. Or is Edwards the man England need as head coach? Or should they be chasing Nick Mallet and pair him with Edwards? Or is it time to bring back Sir CliveWoodward? They need to hire the right people and start progressing.
2 Pacific Island governance
The three Pacific Island countries have the players and rugby ability to be more than occasionally troublesome to the established nations. They could be regular quarterfinalists, possibly even semifinalists. But judging by the report filed by Samoan captain Mahonri Schwalger, the governance of Samoais not in great shape.
Schwalger painted a grim picture of executives seeing the World Cup as an excellent opportunity to socialise on the IRB's tab. Tonga and Fiji also had issues before the tournament, with the Tongans firing chief executive Bob Tuckey two weeks before the tournament, replacing him with an MP. Stronger and better leadership is required.
3 Total reform of RWC sponsorship
Draconian doesn't really do justice to the IRB's stance on sponsorship. Most other sports don't have any conflict between official tournament sponsors and those companies who invest in the various teams. Rugby should be no different. The danger in shutting out individual team sponsors every fourth year is that some might walk away from the sport.
4 Abolish bonus points
Surely if there is one tournament that is about winning and winning only, it is theWorld Cup. There is no obligation to entertain or play a particular style. Why should a test win with tries be considered more worthy than a test win without? A further example of how stupid this is - Scotland played Georgia in the pouring rain in Invercargill. England played Georgia under the roof at Otago Stadium.
5 Increase the powers of the TMO
It wasn't a major problem but it could have been - what would have happened had a try been awarded after a referee missed an obvious infringement in the lead-up? Currently the TMO can rule only on play within the in-goal area. No one wants to see the TMO able to review 25 phases before the try but why not say he can adjudicate in the respective 22s? Why not give him the power to go back that far and point out anything blatant?
6 Meaningful rugby for minnows
No one should expect the likes of Canada, Georgia and Romania to have improved by 2015 unless they are given some help. That means providing regular, meaningful tests for the next four years. They need exposure against Tier One sides if they are to improve. The IRB needs to enforce a new test schedule that includes the aspiring sides - not leave them to the sporadic whims of established nations who will never volunteer to play minnows, as they don't make enough money.
7 Modernisation of the IRB
Did anyone else get the sense that the IRB were here to worry about mouthguards, hakas and sausage sizzles? Public relations is not a strong point and it doesn't inspire confidence that the people running the sport are so relentlessly grey and petty. Rugby needs visionaries and ideas men, not pedants and small-minded types who, having been obsessed with irrelevant detail, suddenly stop caring when England switch the match balls.
8 Serious consideration of two referees
Graham Henry has advocated this idea for a few years and had it dismissed as a bit loony. Whacky idea? Really? How much have we heard about the referees in this World Cup?
Former test whistler Kelvin Deaker made the excellent point that the referees with the best aerobic fitness had the best tournaments. But can we expect referees to keep up with play for 80 minutes? They need to gain the relevant experience and that takes time - so in terms of judgement and ability, few reach their peak until their early to mid-30s, by which time it is harder to maintain the aerobic fitness they also need. Maybe Henry's idea of bringing on a new ref after 60 minutes isn't so daft.
9 One final push to change eligibility laws
The best players need to be at the World Cup. Injury and brain explosions by some coaches are always going to be factors but a bigger and entirely controllable factor is eligibility.
The proposal of a one-year standdown and then players being able to switch from a Tier One nation to Tier Two makes sense on every level. Forget all the utter crap about it damaging the integrity and credibility of test football - that's just preposterous when England's star man was Manu Tuilagi and Wales' was Toby Faletau. Or when, in their hour of need, England called up Thomas Waldrom. There are plenty of good players unavailable because the top nations capped them, then discarded them.
10 Give players a seat at the administrative table
The very people who make the game what it is have no meaningful way to dictate their future. The IRB is determined that players should be seen and never heard and has been reluctant to canvass their views. That needs to change. The players won't hijack the sport and insist on radical changes. More than anything, they want to feel their opinions have been sought.
11 Elect Bill Beaumont IRB chairman
The former England captain has won the support of New Zealand and Australia as well as the Celts and England in his bid to replace Bernard Lapasset. Beaumont sounds likes he's proactive and more in touch with what needs to be done to modernise and advance the game, making changes to the World Cup commercial model.
12 Be patient with Argentina
The Pumas are going to take some time to settle into the Four Nations. They might not win a test for some time but they have the potential to become a genuine force in the world game once they get used to the demands of playing in professional competitions every year. There might be some moaning about what they are doing in there if results aren't great but, if everyone is supportive, the Pumas could be an intriguing and deadly force by 2015.
13 Revamp the disciplinary process
Sam Warburton's red card ruined a potentially great semifinal. It also highlighted the ambiguity of the rule book where, despite the pedants insisting things are clear, they are anything but. The rules are clear if a player is spear-tackled. They are not clear at all when the tackler pulls out as Warburton did.
Red cards should be reserved for acts of foul play. That means acts that fall outside the parameters of the game - kicking, punching, eye-gouging, stamping on heads, 'bag snatching' and the like. Warburton was clumsy and the fact he pulled out of the tackle showed he was aware that he had made an error. A yellow card or - if it were possible - putting him on report, similar to the NRL, would have been better.
14 Pay the players a set RWC fee
The discrepancy in financial provision among the various teams was significant. Some players, those on amateur contracts, probably lost money to be at the tournament, while some of the All Blacks earned in excess of $150,000 during the tournament.
The International Rugby Players' Association recommended paying a per diem to those on amateur contracts but that was rejected. They are proposing in future that there is a set, modest fee paid to every player. If individual unions then make additional arrangements, that is their choice. A set fee would at least give the players some minimum guarantee around finances, as even some professional players are penalised by their clubs for being at the World Cup.
15 Scrap Bronze Medal Final
It's a serious waste of time and exists purely so the organisers can eke out yet more ticket revenue. If income is the only driver, then why not play a festival game? Most players are keen to go home once they are knocked out and have clubs expecting them back. So, with some negotiation, there could be two teams selected from the losing quarter-finalists and semifinalists. These could be random or Northern Hemisphere versus Southern Hemisphere. Anything but watching two teams desperate to not be there.
16 Look into a plate competition
There has to be potential for a plate competition to run under the main attraction. The teams finishing third and fourth in each pool could play quarter-finals at the smaller venues or as the curtain-raisers to the main event.
17 Specific help for Russia
The Russians are hooked on rugby. The sport has an obvious future and has Government backing, as well as some rich and influential men keen to be involved. They will host the 2013 World Cup Sevens and will bid to host the 2023World Cup. Their domestic structure is promising and of all the aspiring teams hoping to become something, they clearly have the most potential. Give them what they need to fast-track their development.
18 Earlier kickoffs
How many Kiwi kids didn't see one iota of action from the final - not even the haka - because they were in bed? How many people found the day of the final dragging on and on and then, once the tension was over and the relief and joy started to settle in, so too did the fatigue because it was midnight?
It was far too late and future tournaments need to think more about the host market - reward people who have paid top dollar to travel, rather than making life easier for those who find it a struggle to get out of bed on the other side of the world and watch it on TV.
19 Make referees' assessments public
This won't be popular but it would at least keep everyone in the picture. Every test a referee has, he's judged by an assessor. Why not then make that assessment available for public consumption?
20 Make all scrum infringements penalties
Too often teams gain ascendancy in the scrums and then earn only a free kick for their efforts. They chose to scrumagain and win another free kick. What's the point? Make every offence a penalty and let the dominant team gain meaningful reward.