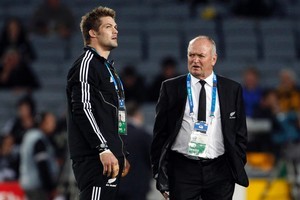 "Thank God" - and more explicit phrases - littered conversations with New Zealand accents at Eden Park.
In many ways it was a bizarre end to the tournament, with squad replacement Stephen Donald kicking the defining penalty and France showing a will and class which had been missing for most of their matches.
A fortnight ago, Donald was hauled from his holiday to join the All Blacks as backup five-eighths.
Last night his pure strike from 38m, his solitary shot at goal in a pressure-laden, see who blinks first final, sealed the title for the All Blacks.
"It's been an extraordinary few weeks and not something I had planned," he said.
The game still had 35 minutes left before referee Craig Joubert would stop the All Blacks' anguish.
It was the most chilling minutes of their lives and agony for the coaching staff.
However, when battered skipper Richard Hugh McCaw lifted the Webb Ellis Cup, the emotional thaw was complete for everyone.
Four years of waiting and wondering were gone. The margin did not matter, the method was irrelevant, the style insignificant.
The only thing which counted was the scoreline.
"It says a lot about the men we have in the team," McCaw said.
"It was not very pretty but it came down to how much desire, how much courage the boys had. A lot of guys have put a lot of effort for a long time to get themselves into a situation to play this game and they weren't going to let this opportunity go."
A week ago the All Blacks had shown their best rugby against the Wallabies and while they did not reach those standards last night it was good enough.
Relieved coach Graham Henry paid tribute to Donald who had received liberal doses of criticism throughout his test career.
Sometimes he had deserved that but he had character and courage and had shown that during the second half. McCaw had a midweek premonition Donald might be needed to help out in the final and he was glad it had transpired.
"Personally you have got some peace," Henry said of his reaction. "It is a great feeling. This thing was about winning.
"We have been through a lot together and a lot of the guys played in the last World Cup and fell at the quarter-final and to win this, there are not words for it quite frankly."
It was about players having self-reliance and taking ownership of the team. Those were the two factors which allowed the All Blacks to get to the final whistle, in front.
"We were under a lot of pressure, we didn't give any penalties away, the defence was very strong, we gutsed it out and I think that shows some mental strength and strong independence from each individual," Henry said.
That culture had been developed in the last few years.
It had been an ultra-tough watch from the coaches' box. France controlled the ball for long periods and two or three years ago the All Blacks would not have shown the resilience to cope with that pressure.