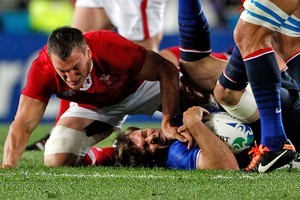 A match that promised so much became a game of might-have-beens as the first semifinal ended on an empty note.
Wales probably still should have won - they missed three kickable goals and only a lack of composure in the last 20 minutes prevented them from sending a French team home that looked a beaten side.
But the flashpoint - that will be rued for years - was the red card for the inspirational Welsh number seven Sam Warburton in the 18th minute.
The Welsh captain is far from a dirty player, but Irish referee Alain Rolland used the full letter of the law in deciding that his tackle on French winger Vincent Clerc merited a sending off.
Warburton hit the diminutive winger with his full force, elicited cheers from the crowd. He drove him backwards but - maybe as a consequence of the slippery surface - seemed to over balance which caused him to lift Clerc above the horizontal.
It was not a spear tackle but it was dangerous and merited a penalty and a yellow card. Instead the collective wisdom of Alain Rolland and his assistants Wayne Barnes and Johnathan Kaplan - three of the most officious, pedantic men on the world refereeing scene decided it warranted instant dismissal.
The Welsh and neutral spectators reacted in disbelief - most had assumed it was a yellow card, until the replay confirmed the decision.
From then on the crowd - and the game - fell flat as everybody realised that World Cup semifinals cannot usually be won with 14 men. Especially when the missing player is your captain and pivotal forward.
Suddenly French first five Morgan Parra looked like a world beater; without the attentions of an openside flanker twice he strode through gaping holes one off the ruck but France couldn't capitalise on the breaks.
Wales didn't help themselves. James Hook continued his poor tournament by missing two relatively straightforward shots at goal, crucial points in a tight first half. His tactical kicking was also poor and it was no surprise when Warren Gatland dragged him early in the second half.
Stephen Jones inexplicably attempted a drop goal with his left foot and the Welsh lacked composure inside the last 15 minutes when they had decent attacking spells near the French 22.
Despite their numerical advantage France offered little apart from forward grind and midfield bombs, which were often misplaced, and spent much of the first spell in their own half.
They reverted back to the team we saw in the pool stages that struggled to subdue Japan and Canada and were flattened by Tonga and New Zealand.
Despite playing with a numerical advantage for more than an hour they struggled to carve one decent clear cut tryscoring opportunity.
The inescapable conclusion is that the French will struggle to make next week's final a contest no matter who they play and their memorable win over England said more about English failings than French finesse.
- HERALD ON SUNDAY