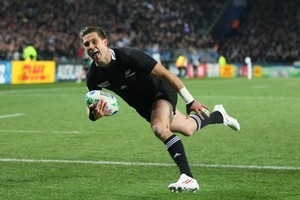 The antics of Jane and Tuilagi were silly but we need to keep a sense of perspective. We happily send troops off to die in imperialist wars, but woe betide a bloke who jumps from a ferry.
Well, here we are, a few days before the World Cup semifinals, and I've reached breaking point already, with regards to apologies.
Why are there so many, and do we really need them? They are so commonplace in sport that the drinkers and those who jumped in the drink are blurring into one.
First, a confession. I wound my scooter up to 53km/h along Albert St this week, but no apology will issue from these lips. This is the point where I should admit to having let my family down, the group down, the nation down, that shame has invaded my soul.
Breaking the speed limit is dangerous and a bad example for youngsters who intend to be scooter riders. According to a deranged cyclist who crossed my path recently, an apology should be issued for merely owning a scooter. You're still not getting one though.
I'm making a stand, trying to turn the tide. There are so many public apologies these days that they have no impact or significance.
Sorry may have been the hardest word in the Elton John song but not any more. Apologies are big business, with the standout example being Tiger Woods' excruciating, cringe-inducing, stage-managed number which stands out like a bog standard fire hydrant in a posh suburb.
This week, Cory Jane and Manu Tuilagi joined the hall of exaggerated shame.
When it comes to maritime disasters, an illegal ferry disembarkation should be put into perspective by an event off the coast near Tauranga. Yes, Tuilagi was silly leaping off a ferry, but we all do silly things at times. We happily send troops off to die in imperialist wars, but woe betide a bloke who jumps from a ferry. So it might have been dangerous - but so is climbing Mt Everest and everyone goes gaga over that. An apology from Tuilagi was quickly forthcoming, although to whom it was addressed or needed to be addressed is uncertain.
As for Cory Jane ... the scientists were called in to emphasise the effects of alcohol and cigarette smoke when consumed within the moderate vicinity of a test match, although this ignored that a loose night out might work wonders for a cooped-up footballer. So Jane lit up a smoke in a bar - this needs to be stubbed out, for sure, but is hardly a national disgrace.
People are people, not primitive robots. They are a whirring mass of chemicals and electrical systems which are shaped by their environment, egged along by the odd hope and dream, or hampered by disappointment. They can't always fit into the moulds supplied by other people. They act instinctively, rather than living life exclusively via a game plan. To check this out, check yourself out ... thoroughly. We are ordered to beat up on the famous few for every little transgression, and they feel compelled - no doubt encouraged by the corporate image crowd - to mumble unconvincingly for forgiveness. But a drink and a fag? Come on - who cares when a giant oil slick is passing through customs. As for the earlier Zac Guildford show trial - appalling.
And yet the warmongers and Wall St thieves and their friends in political places carry on regardless with not a hint of regret passing their lips, no doubt guided by the wisdom of lawyers and spin doctors.
Elsewhere, as at the World Cup, inconsequential actions are distorted into ridiculous significance. Had Cory Jane played badly, all sorts of wild conclusions would have been reached and as the match against Argentina came to show, they would have been wrong. And okay, Tuilagi's brush with the law had to be reported but please spare us the apology, just another meaningless addition to a procession of self-admonishment.
We're all at fault, as news is trivialised for profit and beyond repair. Humour, context and understanding are forgotten concepts, replaced by instant judgment and forced condemnation.
Lines must be drawn somewhere but in the case of sporting lives these lines are increasingly things that have ended up in the wrong places.