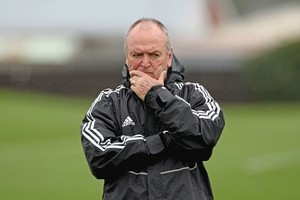 Finding a meaningful job for Graham Henry post-Rugby World Cup has become a high priority for the New Zealand Rugby Union.
The All Black coach has told the national body he is not planning to re-apply for his job after the Rugby World Cup but would be interested in holding some kind of role that would allow him to have some input into the development of the game in New Zealand.
The NZRU are believed to be running through a number of potential options, as they don't want to lose entirely the experience and expertise of such a successful coach. Henry, regardless of what happens in the next three weeks, has one of the most phenomenal coaching CVs in the world game.
He has been coaching for almost 40 years and has won titles with Auckland, the Blues as well as being at the helm of Wales and the British Lions. He was in charge of the All Blacks for the 100th time last weekend and has won 85 of those.
Quite what shape any new role would take is not yet known and may depend on who takes over as All Blacks coach. The role offered may depend on what happens at the World Cup as there will be pressure for a total clean-out if the All Blacks fail to at least make the final.
There has been suggestion that the NZRU could be considering a director of rugby role where Henry would oversee the performance of the All Blacks and also have a wider brief to develop selection templates and talent identification systems.
Originally a teacher, then a headmaster, Henry has ample experience coaching schoolboys and retains a strong interest in that group. Allowing him to have input and some level of control over that age-group would no doubt carry appeal.
The danger of allowing Henry too influential a position is that it could make life hard for the next All Black coach. Having someone as successful as Henry in the mix could be as intimidating and disruptive as it is helpful.
The NZRU are not likely to finalise anything until they have confirmation Henry is definitely going to stand down. While he has said he's not planning to re-apply, the NZRU are wary that he could change his mind after the World Cup.
That's unlikely because Henry's long-time friend and assistant Steve Hansen has confirmed he will be challenging for the job.
He has presumably had confirmation that Henry will not be applying.
Hansen's fellow assistant Wayne Smith will be joining the Chiefs as technical assistant after the World Cup - a move the NZRU were delighted for him to make.
Smith is highly experienced and the NZRU were determined to find a job for him so he was not tempted to head overseas.