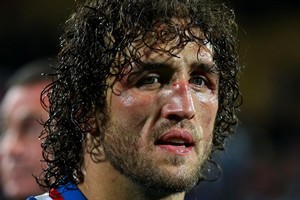 Jacques Burger's Namibian team took a pasting but other minnows managed to hold much better sides within respectable scorelines. Photo / Getty Images
And so the minnows swim for home. Namibia, bested by 80-plus points for the second time in less than 96 hours, left these shores on Tuesday, somehow emerging from the shallow graves in which they were entombed at the end of their final pool match with Wales.
Johan Diergaardt, their coach, returns to his day job as a building contractor in Windhoek this very morning. Jacques Burger, their astonishing captain, says he hopes to have a couple of weeks' rest and recuperation before returning to Premiership duties with Saracens. Knowing his luck, Sarries will give him a run-out with the second team on Monday night.
With the Romanians, Japanese and Americans also on their way home, there are now only two matches on the fixture list carrying serious health warnings: the Wallabies play Russia in beautiful Nelson tomorrow and the All Blacks will set about Canada on Sunday. After that, no more mismatches - unless, of course, Ma'a Nonu and Israel Dagg really catch fire and smithereen their quarter-final opponents all over the North Island.
On the evidence of the matches played in the first half of the pool phase, the so-called "smaller" or "developing" nations - other supremely patronising terms have been used, but we'll stick with these - were more competitive than at any time since the 1991 competition.
Margins in games between the eight foundation unions (four home nations, three Sanzar teams and France) and the rest averaged out at 26 points.
Then, the worst injustices of the fixture programme kicked in. A series of four-day turnarounds, largely the result of broadcasting demands, forced the likes of Romania and the USA to name under-strength teams against the very best opposition in an attempt to keep leading players fresh for games that might be won.
Gobsmackingly, a number of television pundits, some of whom should have known better, attacked Romanian coach Romeo Gontineac and others for showing "disrespect" - an argument that would have been inexplicable except that it was made by paid representatives of those who caused the problem in the first place.
Namibia, by some distance the most poorly resourced side in the competition, played four games between mid-afternoon on September 10 and early evening on September 26.
Once the coaches prioritised games in which victory was feasible, the consequences were inevitable: the 26-point average margin jumped to 36 points. Suddenly, the tournament became more lopsided than most previous World Cups, although it's still nowhere near as bad as the "lambs to the slaughter" competition in 2003.
Yet when all the imbalances and iniquities are taken into account, it's clear several of the tier-two nations are significantly better than in France four years ago. Georgia, Canada, the USA and Japan have been more competitive for longer; Romania, beset by particular financial issues, might have beaten Scotland on the opening weekend; Russia, in their first World Cup, may cop it from the Wallabies this weekend, but will still leave with strengthened foundations in place.
These countries, with Fiji and Namibia, began the tournament outside the top dozen in official rankings. The Pacific Islanders can't be classed as "minnows" - just four years ago, they were very big fish indeed.
- Independent