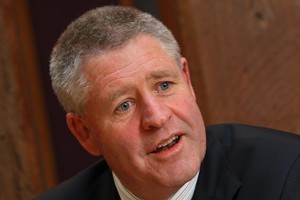 An All Black triumph in the Rugby World Cup will do more than buoy this nation's feel-good factor.
It will shake the tournament rulers to the core, it will give them more tremors than they suffered in 1995 when the sport went professional.
They were put on notice this week when New Zealand Rugby Union chief executive Steve Tew said the All Blacks would not play in the next World Cup under the current financial restrictions.
At last. Someone from the velvet corridors of the IRB who is prepared to threaten, not just speak out, against the iniquities of the cobwebbed organisation. In an interview in the Guardian newspaper, Tew said New Zealand could not afford similar losses in 2015 to the estimated $13.2 million they will suffer by hosting this year's global event.
Unless the tournament's financial model changed, the All Blacks could not afford to participate in the next World Cup.
Tew bemoaned rules that prevented sides dovetailing their usual sponsorship deals with those underwriting the World Cup.
"All we want is what is best for world rugby," he said.
"New Zealand and Australia tend to have to bang the table pretty hard at times to get people to listen.
"Our approach has always been to do things by negotiation and discussion and try to reach collaborative decisions, but ultimately you have to get something."
Once this World Cup was finished there would be some serious commercial bloodletting in the political circles at the IRB.
Tew's utterances will gather momentum. Australia and other smaller nations have sided with New Zealand but have been unable to overturn the voting clout in Europe.
The greatest weapon in their fight to alter the financial model and other arcane practices at the IRB will be a Southern Hemisphere victory at the World Cup.
An All Black win or a Wallaby or Springbok success would deliver the greatest financial dagger to the IRB.
If we are to believe this country's own public relations department and the glowing reports from those north of the equator, the All Blacks are the No 1 global rugby drawcard.
Remove them from the World Cup, even withdraw them from end-of-year tours and there will be a pallor about the global calendar.
New Zealand has asked repeatedly for reviews of the IRB commercial practices around World Cups and this latest public volley from Tew has increased the stakes.
Quietly, no perhaps quite animatedly behind closed doors, IRB delegates would have lauded Ireland's win against the Wallabies in pool play.
If the draw stays the same then the hemispheres will go down alternate paths in the tournament before the conclusion, rather than the southern avalanche many predicted.