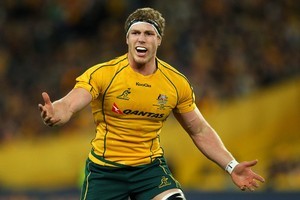 Robbie Deans claimed David Pocock - or a specialist No 7 back-up - could not have saved the Wallabies from defeat at Eden Park after Ireland delivered a bruising reminder about the many threats of the "world" at a Rugby World Cup.
The loss of Pocock (back) and hooker Stephen Moore (sickness) on game day was a blow for the Wallabies, and their absences were highlighted by the up-front dominance Ireland used to stifle the Aussie game plan.
With Ben McCalman stepping in as a makeshift No 7, the wisdom of not having a specialist openside back-up for Pocock was questioned widely, but Deans said even the star flanker would not have made a difference.
"You don't like losing anyone but if you are suggesting that was a point of difference - not even Poey could have stemmed that tide. They [Ireland] were like a tide that didn't turn."
Wallaby fans might hope the real lesson learned about world rugby is how to deal with the big boys of the Northern Hemisphere after yet again being bullied to defeat.
The Wallabies did little to dispel the theory in the north that while they're brilliant playing the pace of a Southern Hemisphere clash, Australia are vulnerable when attacked at the set-piece and physically belted at the tackle.
Ireland did both, with huge games from their front row and their dynamic back row denying Australia any continuity.
"When you have no momentum and the other team has all of it, nine times out of 10 you are going to be on the back foot. Which makes it very hard to win a game," first five-eighths Quade Cooper said.
Wallaby players deny there is a soft underbelly to their game, but a lack of physicality has been a constant when beaten over the past few years. Without muscle up front, dogged persistence in seeking to crack defences with pace out wide doesn't get far.
Captain James Horwill said yesterday that improving their physical presence was a priority. "The contact zone is an area we came off second best ... It is a critical part of the game.
"It is an area in this tournament that the teams that dominate that breakdown area are usually the teams that get the result. That will be a focus for us for sure."
Big improvement must be made in the scrum as well.
- Sydney Daily Telegraph