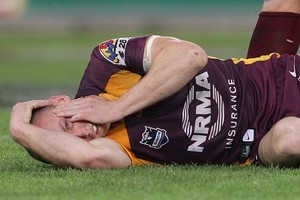 Former Australian rugby league team doctor Nathan Gibbs has warned Brisbane Broncos captain Darren Lockyer he could be risking his eyesight by playing with a fractured cheekbone.
An authority in sports medicine who runs his own clinic in Sydney, Dr Gibbs says Lockyer's orbital bone, which keeps the eye in place, will still be exposed if he takes the field against Manly in Friday's NRL Preliminary Final against Manly, five days after having three plates surgically inserted in his left cheek.
Lockyer has indicated he is prepared to play in the grand final qualifier.
But Dr Gibbs, who played 86 games in the backrow for South Sydney before taking up the position of team doctor for Manly, NSW and Australia during the 1990s, says the Brisbane captain needs to weigh up the risks.
"His face will not be close to healed in a week. It's a preliminary final match, and they will have to decide if the risk of further damage is worth it,'' Dr Gibbs told Brisbane's Courier Mail newspaper.
"Everyone knows about Lockyer's injury and he may be targeted.''
Dr Gibbs has been a long-time campaigner to eliminate high and dangerous tackles from rugby league.
He was the national team doctor who sensationally ruled Queensland legend Wally Lewis out of the 1990 Kangaroo Tour of the UK with a broken arm.
Brisbane coach Anthony Griffin spoke with Lockyer on Sunday afternoon and has left the final decision up to his champion playmaker and match-winner.
Lockyer suffered two fractures to his cheek when he collected a stray knee from teammate Gerard Beal in the 70th minute of Brisbane's 13-12 semi-final win over the Dragons on Saturday night.
Lockyer's surgeon has assured him the titanium plates will stabilise the damaged area and the risk of further injury is minimal.
Griffin said the club's medical staff would monitor Lockyer's progress in consultation with his specialist.
Bookmakers Sportingbet Australia said on Monday the Broncos would blow out from $AU2.20 to around $AU3.00 if Lockyer pulled out of Friday night's clash with Manly.
- AAP