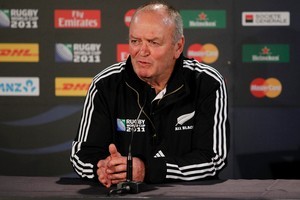 Maybe the seeds of what is happening in the All Blacks right now were sowed on a British Lions tour in 2001. The coach was Graham Henry, the venue was Australia, the smell of rebellion was rife and the series was lost.
Henry, a much different Henry, ruled with an iron fist. He had found his best XV and subs and the rest of the party were definitely dirt-trackers. This all came out during the tour when larger-than-life personalities like Austin Healey wrote scathing columns and other players told how close the squad had come to mutiny.
Those not selected in the top team felt disenfranchised; unloved; divorced from the rest. Henry had made his choices and he focused on them, to the exclusion of other things and people. He has said since that he regretted that approach.
Contrast that with today's squad (and that of 2007) where rotation rules; where the All Blacks (even accepting the effect of injuries) still seem to be picking their way tentatively towards their best team.
One of the key side-effects of rotation is that it creates the "internal competition" of which Henry, Wayne Smith and Steve Hansen are so fond and talk about often. But is there a different psychological element possibly at play - a wish to keep everyone happy; to keep the players guessing and therefore involved; to ensure there are no divisions and disaffected players influencing unity, or the lack of it?
Maybe that's not being fair to Henry - to suggest the trauma of 10 years ago is still affecting his judgment today. But, for many All Black fans, this twiddling, fiddling, tinkering, and eternal searching for options is a mystery that increases anxiety and uncertainty - and they feel, perhaps with justification, that it must affect the players that way as well.
After these last four years, it beggars belief for many that we still seek our top team and some key selections. There have been selection issues at wing, first five (Henry's decision not to take Colin Slade on tour in 2009 is coming home to roost) and halfback (Alby Mathewson's omission is starting to look questionable too).
Most rugby people - and many former All Blacks - feel strongly that the best way to approach the Rugby World Cup is by playing your best 22 (or as close to that as injuries will allow) consistently - to build combinations, confidence and combativeness.
We can only wait and see. Maybe Henry's tactics are just what is required and he and the All Blacks will triumph in style. But it is hard to escape the feeling that, if so, the All Blacks will win in spite of the approach and not because of it.
ONE OF the unfortunate by-products of a major event like the World Cup is that it draws people who have no business writing about rugby into ... writing about rugby.
Like Sunday Star-Times columnist Anthony Hubbard, whose full-page swipe at the game last week was accompanied by his full-length picture byline which showed him wearing sensible brogues and a donkey jacket - a photo which suggested a Baby Boomer nerdy swot humiliated by rugby and/or games of bullrush at school and who has waited until now to seek his revenge on the nasty boys who upset him.
This was rather confirmed by the column and the standfirst above it: "Redneck rugby may be a thing of the past but our 'national pastime' is still not a beautiful game". He went on to tell us:
* He didn't like rugby (quel surprise).
* It is a violent game which "reeks of machismo".
* Its multi-cultural charms have still not diluted "a Palagi fear of Samoans".
* Rugby isn't a beautiful game; football is.
He so clearly doesn't know what he is talking about that he found it necessary to show how rugby has grown through the fact that John Kirwan was heard speaking fluent Japanese (hey, Anthony, he speaks fluent Italian too ... ) and "sophisticated and worldly people used to be the exception in the squad ...". Spare me. They are rugby players, Hubby.
They don't have to be quantum physicists. Theirs is not a task of improving New Zealand's social and cultural mores but there were always more intelligent people in rugby teams than the Hubbards of this world would credit. See today's issue where, among other things, we reveal that former All Black prop Kees Meeuws is also an artist. Who'd a thunk? A meathead prop ...
Violence? Let's talk Muhammad Ali, then - the best exponent of the world's most violent sport (bar that awful cage fighting nonsense). Few sports have more "machismo" than boxing. Yet Ali changed not just the sport, but the world. Colour bars, social standing, pacifism, religious freedom - pretty impressive list of achievements for a man steeped in violence.
Most laughable of all was the supposed Palagi fear of Samoans. So ... we're okay with Fijians, Tongans, Cook Islanders and Niueans then? Just Samoans, eh? The joke is, of course, that anyone who has played rugby in this country has no fear of Polynesians at all because ... they spend so much time playing and mixing with them. From this 'violent' pastime, friendships and understanding grow.
People who spend their time hiding in donkey jackets and writing things like "the macho mould will only be broken when a gay All Black comes out. Then, perhaps, the revolution will be won" might be scared of Samoans but not many rugby people are.
Views like Hubbard's are the worst sort of reverse snobbery. Fair enough, he doesn't like rugby. No problem. But don't sit on the outside of something you know nothing about, populated by people you don't understand and talk about "revolution".
Once I'd finished laughing, I was reminded of the oxpecker, that parasitic bird which sits on rhinos in Africa, pecking up ticks and such like. Hubbard's views are to rugby what the oxpecker is to the rhino - irritating, but ultimately insignificant.