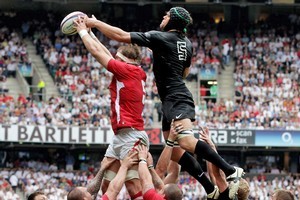 They packed 80,000 in to watch it ('no, please', as the late Frankie Howerd used to say....'don't laugh') and you had to assume the punters enjoyed their day out in the sunshine.

Rather like the sunbather in a back garden, laying down to enjoy a nice sleep...unaware of the snake slithering across the garden to investigate.

For if anyone thought England's performance against Wales at Twickenham on Saturday in any sense prepared them for a Rugby World Cup and exposure to the likes of New Zealand, they must be living in cloud cuckoo land.

Just 34 days before the start of the World Cup, the performances of both England and Wales were shockingly deficient. In which areas, you may ask? Well, just about all to be frank.

You have to say, every player who participated did his best. I never subscribed to the theory that some players go out disinterested. And you also have to say, this was far from an England first team - just four members of the side that started the final 6 Nations game of last season, began this World Cup warm-up game at Twickenham.

Even so, players like Jonny Wilkinson, Danny Care, Mark Cueto, James Haskell, Simon Shaw, Dylan Hartley, Lewis Moody, Tom Croft and a few others are hardly unknown.

But collectively, England are playing another game in another stratosphere to that of the All Blacks at this moment in time. And that is not meant to be a compliment.

Any number of faults and deficiencies could be identified in England's game. The following represent just a few of the problems.

- Release of the ball from the breakdown is still far too slow.
- The organisation of players, the intended ball carriers, around the fringes of the breakdown is so laboured it resembles more the movement of pieces on a chess board.
- Just about every player when in possession is still focused on seeking contact, not space. It remains a macho problem for players in the northern hemisphere.
- Off-loading in the tackle is still largely an unknown trait that has yet to cross the equator.
- As a result of this, continuity, momentum and the likelihood of making a decisive rupture in the opposing defence is still at a premium in the northern hemisphere game.
- Too often, players stood too deep in attack and therefore faced a battle even to reach the gain line.
- There was a disturbing lack of accuracy and precision in both teams' game.
- Players are still far too upright going into contact, especially the Welsh.
- England's whole game plan remains far too formulaic. Most of the time, you can read their intentions like a book.
- Individuality seems to have been coached out of these players. The only exception to this rule at Twickenham on Saturday was full-back Delon Armitage.
- There was still far too much aimless, imprecise kicking.
- The lack of overall vision was a matter for widespread concern.
- White line fever, players just putting their heads down and charging at the chalk whenever they get within range of the opposition line, continues to take precedence over vision and a more cunning strategy.
- There was far too much going to ground in the tackle. It was as though the advantages of the off-load were simply unknown to these players.
- The passing was never crisp or technically good enough for this level.

Apart from all that, it was an exemplary performance...

If, after all this time when the new law interpretations offered genuine advantages and rewards to the team intent on keeping the ball alive and in the hand, England still cannot play this game, you have to say major questions ought to be asked of their preparations.

For sure, they will be fine when they face the likes of Argentina and Scotland in their pool matches. The Scots, who beat a ramshackle Ireland side at Murrayfield on Saturday, remain as far from embracing the dynamic New Zealand game as Edinburgh is from Dunedin.

But if England encounter an Australian side that establishes anything near parity up front and therefore secures enough good ball to unleash their inventive backs, then they will surely be cruelly exposed at the World Cup.

As for the All Blacks, if Graham Henry's side remain true to their creed and continue to attack from every corner of the field, England would be run ragged.

It is alarming to see those called international players exposed as so technically deficient on the eve of a World Cup. Don't these northern hemisphere countries know there is another game being played in Australasia, albeit not in South Africa? Don't they understand that superior ball skills, greater pace and intensity plus elevated fitness levels are required to play this game? Don't they realise what is about to hit them in the World Cup?

To see this sub-standard, grossly inferior stuff again being churned out last weekend by northern hemisphere countries was to despair. It is as though eyes and ears remain closed throughout the northern hemisphere rugby playing nations.

But still the punters pour in to see this stuff...

Peter Bills is a rugby writer for Independent News & Media in London