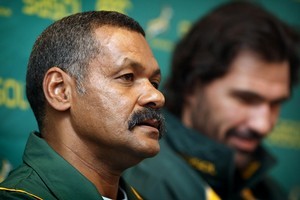 Springboks head coach Pieter de Villiers yesterday played down reports that the 21 rugby players left at home for the Australasian legs of the Tri-Nations have been secretly training rather than recovering from injury.
A South African news report suggested that the players who were not in New Zealand for Saturday's test against the All Blacks were with technical director Rassie Erasmus at a training camp in Rustenburg despite missing the trip because of "medical reasons".
But de Villiers said after the South Africans arrived in Wellington yesterday that he was surprised when told that players had been training.
"It's the first time I've heard that. I'm surprised now," he said before being asked if he could confirm that his "so-called" injured players were not in a training camp.
"So-called is not the right word to use. They're injured players back in South Africa and there's a few guys going back today too who are also injured.
"They are not training at the moment," de Villiers said.
He was not surprised by suggestions that the injured players were in fact training: "There's mischief every week."
Captain John Smit sidestepped questions on the issue.
"I can't confirm that, no. I wouldn't have a clue, you'd have to be in South Africa to see what's going on, surely," he said.
De Villiers said they would check on the fitness of the players left back in South Africa on their arrival home next week at a "medical scanning camp" to determine whether they would play a role in the two Tri-Nations matches in the Republic next month.
-NZPA