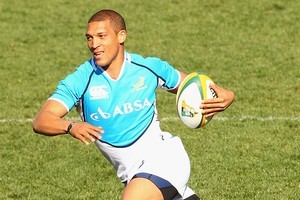 The Springboks injury woes have worsened on the eve of their departure for Saturday's Tri-Nations rugby test against the All Blacks in Wellington with key forwards Flip van der Merwe and Heinrich Brussow and fullback Gio Aplon today ruled out of contention.
A pessimistic prognosis on the rib injury Van der Merwe sustained during last Saturday's 39-20 loss to the Wallabies proved accurate - the second rower heads back to South Africa and Aplon has not recovered from back and shoulder injuries while the remainder of the squad cross the Tasman.
Van der Merwe will be replaced by veteran Danie Rossouw, who started on the blindside flank against Australia, or the uncapped Gerhard Mostert.
The former Sharks lock, who has transferred to Stade Francais, arrived as a replacement on Sunday when Johann Muller returned home with a hamstring injury.
Aplon missed a second successive training session today and the decision was taken to send the diminutive counter attacker home with Van der Merwe.
It means five-test utility back Patrick Lambieis likely to start in the No.15 jersey - a role he assumed at the Sharks after veteran French first five-eighth Frederic Michalak joined the squad mid-season.
Openside flanker Brussow has also failed to recover from a long-term hamstring problem so will not be available to counter All Blacks rival Richie McCaw at the breakdown.
Brussow will remain on tour as medical staff continue to monitor his rehabilitation meaning Deon Stegmann is likely to retain his place in a loose trio which was dominated by their Wallabies counterparts at ANZ Stadium.
It is hoped Brussow will make his comeback when the Cheetahs meet Western Province in the Currie Cup next weekend.
In one positive, Alistair Hargreaves, the Springbok's other starting lock against Australia, returned to training today as concern eased over his abdominal strain.
Meanwhile, 2007 World Cup-winning Springboks coach Jake White has questioned the wisdom of leaving 21 leading players in the Republic to rest or recover from injuries sustained during the Super rugby season although he employed a similar philosophy four years ago.
White, who will coach the Brumbies in next year's Super rugby tournament, told The Australian newspaper circumstances were completely different to when he rested stars before guiding them to victory in France.
"I'm critical of the fact that it seems to be a sort of copy act," White said.
"I think you look at things on the merits of where the team is now. There was almost an opportunity for the Springboks, had they brought their best team, to get a win against the second-best team in the world.
"There is no doubt that Australia is now set-up. They got five points from this game. They will have a week off while South Africa play New Zealand and then they get an opportunity to continue their momentum.
"I'm not critical at all about Peter. I'm just critical about the fact that maybe there was a gap that was missed for South Africa to maybe stake a claim going forward in the campaign.
"You want to go into the World Cup with some sort of momentum, and you want to go into the World Cup knowing you can beat anybody. If you are on the receiving end of losses, it becomes more and more difficult," he said.
White rested senior players midway through the 2007 Tri-Nations once it was obvious South Africa could not win the title so that situation "was completely different".
- NZPA