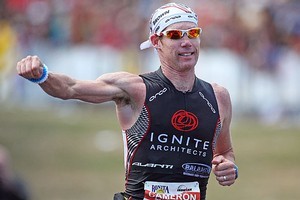 A disastrous bike leg cost New Zealander Cameron Brown any hope of a top-three finish at the European ironman championships in Frankfurt overnight (NZT).
Brown started well with a solid 48 minutes 07 seconds swim over 3.8km, to finish part of group two minutes down on leader Faris Al-Sultan.
However, Brown couldn't manage to carry that form over into the 180km cycle leg, struggling in the unseasonably cold conditions.
"I could not ride my bike to save myself, there was no power coming from my legs and I just struggled in the cold weather," Brown said.
"I don't I have ever ridden so bad before, but that's racing."
His day deteriorated further with a puncture at around 100km, and coming off the bike was a massive 24 minutes down on race leader Al-Sultan.
Brown said he gradually started to feel better in the 42.1km run, and eased his way through to seventh on the final lap.
"I was pleased to see the finish line after an extremely wet and very cold day - maybe not as bad as Ironman NZ this year, but very close," he said.
Brown eventually finished in eight hours 31 minutes 47 seconds, with Al-Sultan nearly 20 minutes faster on 8hr 13min 50sec.
Brown said he would now focus on the Hawaiian ironman in October.
New Zealander Sam Warriner pushed hard in the women's race, after finishing sixth out of the water but couldn't haul back eventual winner Caroline Steffen (Switzerland).
Steffen's winning 9hr 12min 13sec was a shade over 30sec ahead of second-placed Lucie Zelenkov, while Warriner was fifth in 9hr 18min 04sec.
- NZPA