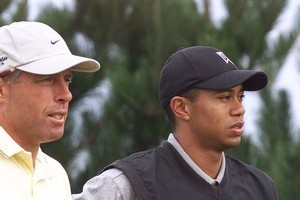 Steve Williams says he will "absolutely" remain friends with Tiger Woods, despite being dumped as his caddie.
Woods told Williams he needed to make the change after the AT&T National tournament earlier this month, ending a 13-year relationship in which he won 72 times worldwide and 13 majors.
"A player that is not playing to the best of what they feel their ability is they often look for things to change," Williams told Radio Sport.
"I'm sure that's what he's thinking."
He said he will "absolutely" remain friends with Woods.
"I've been fortunate to witness possibly one of the greatest golfing runs ever."
Williams said after 13 years of loyal service the news came as a shock.
"Given the circumstances of the past 18 months working through Tiger's scandal, a new coach and with it a major swing change and Tiger battling through injuries, I am very disappointed to end our very successful partnership at this time," Williams said on his website.
He will now caddie for Australian Adam Scott on a permanent basis. The 31-year-old is ranked 17th in the world, currently three spots ahead of Woods who hasn't played since the US Masters in April.

Williams found out he had been dumped by Woods two weeks ago, but the news was kept quiet while Scott competed in the British Open so as not to distract him.
"I have had the opportunity to work of late for Australian Adam Scott and will now caddie for him on a permanent basis. Having started my caddying career with Australian great Peter Thompson and working for Greg Norman in the 80s I am excited about the future working for another Australian."
Woods broke the news to his fans on his own website.
"I want to express my deepest gratitude to Stevie for all his help, but I think it's time for a change," Woods said. "Stevie is an outstanding caddie and a friend and has been instrumental in many of my accomplishments.
"I wish him great success in the future."
Woods is yet to name a replacement.
Williams and Woods had previously been thought inseparable.
However, speculation mounted that a split was possible once Woods admitted a series of sexual indiscretions in late 2009.
Woods has since separated from his wife and has been troubled by a serious knee injury.
The American former number one has been out of action as he rehabilitates his left leg, and no decision has been made on when he will return to competition on the PGA Tour.
Woods and Williams' major wins together:
1999 - PGA Championship, Medinah
2000 - US Open, Pebble Beach
2000 - British Open, St Andrews
2000 - PGA Championship, Valhalla
2001 - Masters, Augusta National
2002 - Masters, Augusta National
2002 - US Open, Bethpage State Park
2005 - Masters, Augusta National
2005 - British Open, St Andrews
2006 - British Open, Royal Liverpool
2006 - PGA Championship, Medinah
2007 - PGA Championship, Southern Hills
2008 - US Open, Torrey Pines