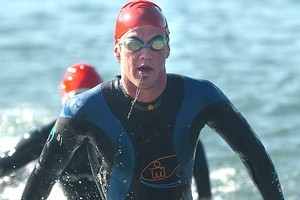 New Zealand elite triathlete Tony Dodds is counting his blessings after avoiding serious injuries when colliding with a car while training in Germany.
Dodds is presently based in Darmstadt in the build-up to this weekend's leg of the world championship series in Hamburg.
He is recovering today after a crash saw him launched through the back windscreen of a car while training on his bike.
The 24-year-old lost a lot of blood and ended up with 12 stitches around his elbow due to cuts from the windscreen that narrowly missed severing an artery.
"As I was coming down a slight hill we were about to pass a parked van but the car in front of me decided not to and jammed on his brakes, but it was too late and I slammed on my brakes and went flying through the back windscreen shattering it," Dodds said.
He ended up with his torso through the rear windscreen of the car and his legs hanging out the back.
As soon as he got over the initial shock he noticed blood pouring out of multiple wounds in his right arm with glass all around him.
The driver immediately called an ambulance and other witnesses came to his aid.
Dodds was rushed to hospital to have glass removed from his wounds, stitched up, bandaged and sent home in pain, but all too aware that the outcome could have been a lot worse.
Barring a miracle, the injury will rule Dodds out of Hamburg this weekend which is the final hitout before New Zealand's first 2012 Olympic selection race in London on August 6.
"I'm all bandaged up and very sore. I'm still unsure exactly what's going to happen, but I'm hoping it all heals up for London.
"I have got to be grateful my head or any other part of my body wasn't slashed up.
"I was concerned about over-training in the lead up to the London Olympic trials so I'm seeing the silver lining in the situation.
"Potentially this is actually an opportunity to rest and be well prepared for August."
Dodds is the second casualty within a week for the New Zealand high performance team, with James Elvery breaking his hand after slipping and falling during a training run.
- NZPA