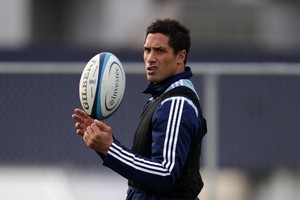 "Obviously" and "myself personally" infest Stephen Brett's answers. Maybe it's nerves, perhaps a mannerism, it could be his mechanism for buying a bit of time in his responses.
The twitch fibres seem to be working hard for the five-eighth as he eyes a repeat shot at the Reds tomorrow and another chance to satisfy his rugby soul.
If we read the tea leaves correctly, and it is not such a given with the All Black selectors, Brett is not on their radar to make the World Cup squad.
At best he is third-choice goalkicker for the Blues, has had a varied tournament and is heading off for a two-year contract in Japan; three factors among many which will exclude him from test selection this season.
Brett may not make the step up to test rugby but he has been close (he was called into a squad in 2009) and is another who suffers by comparison with Daniel Carter.
Brett has a number of flaws which do not appear to have been repaired or coached into a more productive zone.
Sometimes his judgment lets him down but he is not a sole practitioner there.
He is very fit and quick, he has more ticker than some give him credit for, his tactical punting can be withering or woeful in the same move and he is reputed to be a strong student, if a little robotic.
For most of this season he has followed the gameplan the Blues coaches have wanted.
There have been glitches and he got a spell for the Chiefs match but was then reinstated.
It's almost like the coaches have said they know what they will get from Brett, he is a specialist first receiver and they will build the rest of the backline round him.
Tomorrow at Suncorp he will start in the No 10 jersey, giving him appearances in every match for the Blues this season.
It is a feat of endurance matched only by Joe Rokocoko, Jared Payne, Alby Mathewson, John Afoa and captain Keven Mealamu.
"There is definite excitement, any opportunity to play a semifinal is exciting and myself personally I am looking forward to it," Brett said.
"I have not been in one [playoff] for a wee while now so I am looking forward to the challenge."
The Blues had not been in the playoffs since 2007 so that progress had given the entire squad a boost.
Like his teammates, Brett knows his game has to go up a notch, especially on defence.
"Me myself personally, I missed a couple of ones early against the Waratahs at the start of the half but then I showed I could have a few big hits and put a couple of boys away and I am happy with the way I am going."
If the Blues miss tackles at the rate they did last weekend the Reds will put points on them as they did in their pool match a month ago.
That night the Blues had a comatose beginning and were 24-0 down inside 30 minutes. Game over.
The same principles apply tomorrow. They have to shut down the Will Genia-Quade Cooper fulcrum to apply heat to the Reds. It is no easy task.
"It is massive. They are such great players, they are Wallabies, if they get good gain line they are hard to stop.
"Obviously with Quade he has such jinky feet and obviously with Will just throwing the ball and wide passes we have to ... eliminate them, then it can be an even game," Brett said.
First up will be making a good start instead of the previous motley beginning. The Blues never regained the advantage they conceded with their sloppy work that night. They missed tackles and were not prepared for the game the Reds brought.
"But", said Brett, "Hopefully we can eliminate that this week and be ready to go."