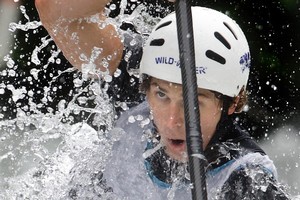 New Zealand whitewater kayaker Mike Dawson had a brilliant semifinal run to thank for his best result on the World Cup circuit in Slovenia yesterday.
Dawson finished 10th in the first International Canoe Federation championship event of the season in Tacen, drawing a 50-second time penalty in the K1 final to fall out of medal contention.
But he had already created a little bit of history, becoming the first New Zealand male to make it past the semifinals at a World Cup round.
"Unfortunately I knocked the last gate in the final with the wrong side of my head, so was credited with missing it," Dawson said.
"But I'm delighted with my performance and life tastes pretty good at the moment. It's certainly a big confidence booster with Olympic selections coming up."
The result is the 24-year-old's best at senior level, surpassing his 21st placing at the same venue four years ago, and comes just a week after starring in extreme races at the Teva Outdoor Games in Italy.
Dawson's semifinal run was the key - his 97.06s effort was the second-fastest run of the round. Only a single touch at one gate dropped him back to 10th, enough to ease into the final 0.1s ahead of Italian world champion Daniele Molmenti.
- NZPA