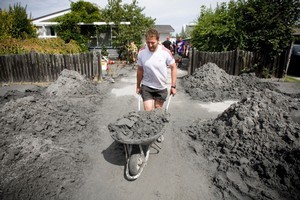 Israel Dagg often tells himself to harden up after an earthquake rocks Christchurch.
It's not easy. There have, after all, been thousands since September's 7.1 magnitude earthquake and the mind can leave even deeper scars than those which have disfigured the Canterbury landscape.
There have been many times when Dagg and team-mate and close friend Zac Guildford have wanted to flee. Just last week, they packed their bags and were thinking about escaping to Kaikoura before coach Todd Blackadder convinced them to stay.
"For me, it's been pretty tough," Dagg admits. "You get a little shake and your heart starts pumping, especially when it happens at 3am. You wake up and nearly have a heart attack. It's quite scary.
"When you hear one, it's like a train is going to come and bowl down your house. When you hear them, you tense up a bit and wonder how big it's going to be.
You get nervous but I'm getting used to them now. The big, big ones are pretty scary."
Not scary enough to leave town for any length of time, however. Dagg could have. He's been sidelined since injuring his quadricep against the Stormers six weeks ago and Crusaders management would probably have understood if Dagg wanted to leave for a while.
"What keeps me here is this great team," he says. "We have a good bunch of guys and we are all trying to win this championship. I wanted to stay and help them in any way I can.
"I'm not going to let this earthquake get the better of me. I just have to be strong. I am here next year as well. This is my home and I need to make the most of it. I just have to get hard, really."
Every member of the Crusaders has a story to tell. Some have had their possessions damaged while for others it's been their peace of mind. Many sent families away to safer ground and others spent chunks of time out of Christchurch.
Dan Carter often seeks comfort at his parents' home in Southbridge, about 45km out of the city, while Guildford has ventured to the Hawke's Bay and Dagg to Tekapo.
Throughout it all, however, remains a team committed to a goal. It was something they set prior to February's big one, but has sharpened with each jolt.
"We recognise things have changed down here," No 8 Kieran Read says. "But we know we have the chance to do something really special and that has driven us. You could easily use [the earthquakes] as an excuse but we know we are better than that."
Read represents the staunch face of the Crusaders. He probably has to, as stand-in captain but he often talks about "getting on with it".
Read's house in Shirley has coped well but liquefaction has been a major problem. He organised a gang of players and staff to clear the sludge in February and did it again last week.
The Crusaders have shown remarkable resilience. As well as their own personal difficulties, they have played every match away from Christchurch, including what they had hoped would be a money-spinning one in London.
Before the bye three weeks ago, the longest stretch the players had spent in one bed consecutively was eight days, and that was in Cape Town. In many ways, they have de-mystified the travel factor.
They were also forced to travel by DC3 when an ash cloud forced the cancellation of flights for their 'home' game in Wellington. There's a feeling that anything that can go wrong, will go wrong. But it only seems to intensify their resolve.
Rugby has given the players a focus other Cantabrians might not have and they feel a real sense of responsibility for the people of the region who have little to cheer about.
There is also a widespread commitment among the players to stay, illustrating the strength of the Crusaders' culture.
Even Guildford, who famously ran into town barefooted in the aftermath of the February earthquake to look for his girlfriend, has declared his desire to come back next season. The difficulty might be in trying to attract new recruits.
However, assistant coach Daryl Gibson admits he's contemplating getting out of Christchurch for some time after the present campaign.
"It's just never-ending," says a tired Gibson, whose already damaged Sumner home was flooded last week after the hot water cylinder burst. "You are constantly living in fear and anxiety. It's difficult trying to cope with life not being normal.
"Last week the house got pretty much trashed. You think, 'oh, it would be easier just to shut the door and go and live somewhere else and come back when it's normal again'. I was at that point last week.
"If we weren't in the middle of a campaign, I would definitely consider it [leaving]. It's more my wife who wants to stay. She's pretty determined and I respect that. If there's another event, I would seriously consider relocating for six months and taking a bit of time out."
It's been a time of great personal growth but it's also allowed the coaching staff to understand their players better. They brought in mental skills coach Gilbert Enoka and have encouraged players to talk after each major episode. They also 'audited' each player to evaluate how they were coping over time.
"We are a very resilient team and what we have had to go through is quite staggering," says Gibson, who shipped his wife and four young children off to Tauranga for nine weeks.
"It's shifted the view of the coaches of what players can cope with. In rugby, we are terribly worried about change. The abnormal became our new normal. It's about getting on and accepting that and doing the best you can.
"A lot of teams do team-building exercises, putting adversity on their players like going to an army camp.
"We haven't had to create that. It's been placed upon us and it's had this magical, galvanising effect."
There might be some who crash after the season is finished.
Many have the lure of a World Cup to keep them focused while others will play in the ITM Cup.
Rugby is a release, even if it's just 80 minutes a week.
But one thing they don't need to do is harden up.