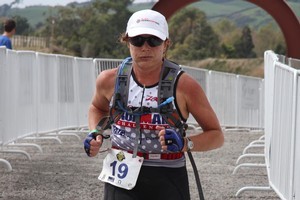 Vinnie Duncan, runner Easter 2004 and Vinnie Duncan's life changed forever.
The 42-year-old Auckland mother of seven (aged 3 to 13) was diagnosed with aggressive breast cancer, with a poor prognosis. An 8cm tumour had developed in only 18 months, and cancer was in the lymph nodes.
Specialists gave her a 20 per cent chance or less of making it. Her life was turned upside down.
Fast forward the clock to 2011 and Duncan has achieved a list of challenging sporting events to be proud of. It has been a turnaround fuelled by Duncan's resolve never to give up.
But not before she undertook aggressive treatment to attack the cancer. An immediate chemo programme (seven cycles) to arrest the growth and shrink the tumour, then a full mastectomy, oovarectomy and lymph extraction, six weeks of radiotherapy and another five cycles of chemotherapy .
The treatment took its toll in every sense: physically, emotionally and financially.
"I put a halt to treatment in the end, partly because of the cost, but also because by this stage I could barely get off the couch," recalls the 49-year-old Duncan.
"After 11 months of treatment,I was prepared to take my chances. I needed to try for quality of life, in order to manage the family."
During this time, Duncan had plenty of moments to reflect, grieve, worry, plan and prepare - for all possible outcomes. Her perspective on life was renewed.
"I made a pact to myself that no matter how much time I had on this earth, it was imperative to make the most of each day," said Duncan.
"It shouldn't take cancer, or a serious illness, to make you realise this. I became caught up in the day to day grind of family, working, chores and just coping, and needed to recognise the simple pleasures that are right there, every day."
Duncan's recovery has inspired many people. Vicki Fowler from Total Sport remembers meeting her for the first time in April 2010 after reading her "reason for entering" on an event entry form.
"I was totally amazed at what I was reading," said Fowler. "I said to a colleague 'This woman is my idea of a hero, for any one of these reasons - let alone all of them together' ... mother of seven, cancer survivor, married for more than 20 years, business owner, multiple Ironman finisher, adventure sport enthusiast ... a total inspiration.
"Vinnie is one of those people who you feel privileged to meet. She left an indelible impression on me ... humble and gracious with underlying shining strength and belief - more than a little of the Sir Ed factor in the mix there for sure."
Duncan believed that unless the environment in which the cancer was able to flourish was changed, there would be nothing to stop its quick recurrence.
So along with making exercise a priority, diet changes were made (to the family's initial disgust) and stress levels reduced.
A year after treatment had finished, Duncan started to get some strength back and tested out fitness levels while on holiday in the Abel Tasman National Park.
"A walk became a run and, after a few days, I was running every day, not far, but loving being out in the fresh air, in the bush, in nature. This was what I really, really loved, being outside."
It became a daily priority and her first goal was the Rotorua marathon in 2007.
"I had participated in occasional marathons and half marathons prior to the cancer, but they always seemed like an indulgence, not a priority."
After completing the Rotorua Marathon, the next goal, seemingly unattainable, was Ironman Taupo.
With the support of husband Andrew, who completed three Ironman triathlons in the early 1990s, they put together a realistic, manageable training programme.
"Getting to the start line of Ironman 2008 was an emotional ride," said Duncan.
"Getting to the finish line, an hour faster than I thought possible, was a euphoric moment, and I really felt then that no matter what cancer, or life, threw my way in the years to come, I had the satisfaction of having completed something that I would otherwise possibly never have done."
After completing Ironman, Duncan has indulged her passion of being outside, and in nature, whatever the weather. The family has walked the Milford and Heaphy tracks, and triathlons, running and multisport events are now standard routine.
"It means a lot of solitary training hours, but in a busy family life, they are an oasis of calm, peace and enjoyment, which I treasure."
Her husband and family are supportive of her, and Duncan has learned a great deal from her battle-with-cancer experience.
"Life is here to be absolutely grabbed with both hands. A cancer journey never ends. There is no magic button which says 'this is now over'," she said.
"There is always a shadow there, and you can live in fear with it hanging over your head, or you can embrace it and be thankful for the reminder it gives that each day is precious.
"We live in an incredible country, where the opportunities for all right outside the front door are endless. You don't have to do an Ironman - maybe just get out and take the dog for a walk, stroll around the park, go to the beach, get some sunshine, anything at all.
"If sport is not your thing, then find out what is and indulge it. Maybe you always dreamed about painting, or playing an instrument, or writing a book, just get out there and have a go.
"Put some time aside every day to let yourself revel in something just for you.
"I am an average athlete, and certainly never at the front of the field, but the pleasure comes from training, and completing the goals you set for yourself.
"Some friends and family members think I am mad. However some of those people are now doing things of their own, people who never ran before are doing marathons."
At the recent T42 event Duncan ran with her husband , a brother who completed his first marathon, and another brother who finished his third.
She reluctantly shared her story, but did so in the hope it can inspire others to live a full life.
"She doesn't mind sharing her story if it means it could inspire more people from couch potatodom to a healthier life," added Fowler.
Duncan's next goal is to take on Ironman Taupo in 2012, hoping for a personal best time.
She has nothing to prove. She has come out smiling all the way to the finish line of every challenge that she has overcome. The main event for Vinnie Duncan is an everyday mantra: "Living every moment, of every day."
Vinnie Duncan file
Age: 49, self-employed
Events completed since cancer diagnosis 2004:
Rotorua Marathon 2006
A variety of half marathons.
Several cycling events from 65km-120km.
Rotorua Half Ironman 2007
Taupo Ironman 2008
Ironman Nice 2008
Tussock Traverse 2009
Rangitoto Swim 2009
Ironman Taupo 2009
Coromandel Classic 2009
Ironman Kona 2009
Taupo Half Ironman 2009
Challenge Wanaka 2010
Taupo Ironman 2010
Anaconda Waihi 2010
Busselton Ironman 2010
Maraetai Standard distance Tri 2010
Whangamata Tri 2011
Coastal Challenge 2011
The Dual 21 km 2011
The Nugget Multisport Event 2011
T 42 2011