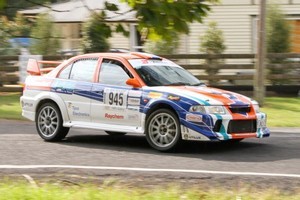 This weekend, Targa fans should keep an eye on a duo who have 156 years' experience between them The tarmac road in and around Rotorua will be getting a bit of a shake-up this weekend when about 200 cars will be blasting through various special stages.
The two-day event starts and finishes at Rotorua's Novotel Hotel and has a total of 382km of special stages - 222 of them today and 160km on Sunday.
Most eyes will be on the more exotic machinery and the go-fast guys and girls. However, fans and spectators alike should keep an eye on the pairing of Keith Yeats and Shirley Faull in their 1977 BMW 535 E12 in the classic category of the Targa.
Not only has the car got a few kilometres under its hood but Yeats and Faull have also seen many kilometres in their time. They have 190 years' experience between the three of them: 34 years for the car, 73 for Yeats and 83 for Faull totals a serious amount of "been there, done that". For the past two years the Bay of Plenty pairing have finished sixth in the classic section of the tarmac event.
Te Puke lass Faull has a car of her own - a Toyota Corolla which she uses in local club events - but since answering a "co-driver wanted" ad in 2004 she has contested the various Targa events with Rotorua man Yates.
"They must have wondered what struck them," said Faull as she told the story of how she got into motorsport at the grand old age of 74.
"I bought a Toyota Celica in 2002 and through owning it came into contact with the Toyota MR2 club. At that stage I thought I might like to become a rally driver so I asked one of the members of that club how I should go about it.
"He told me that the first thing I had to do was join a club, so I did. By June or July of that year I had my competition licence and by November I was co-driving with Keith in the Dunlop Targa rally."
The two of them have since branched out to enter the Race to the Sky hillclimb near Queenstown in 2005 and the new Ohakune Giant 1000 hillclimb this year.
And they're not just there to make up the numbers. In 2009 they finished sixth in a field of 40, and were only 11min behind the class-winning Holden Commodore V8 of former New Zealand Super Saloon (Speedway) champion Brent Emerson and Sheryl Hanright.
Last year they again finished sixth in another big field, 14min behind class winners Mark Parsons and Mal Clark in Parson's V8-engined Triumph TR7.
"I don't actually feel old," said Faull. "I've always been active and, when I talk to people about what I do, I always tell them that if there is something they think they might want to do then they should do it, because you never know what you can or can't do until you try."
When Faull and her late husband were bringing up their two daughters, she also learnt to fly. When her daughters left home she took up athletics, twice travelling to the World Veterans Games and completing the Rotorua Marathon in 1989.
Since then motor racing has become her main competitive focus and she is now a regular on the senior citizen speaking circuit.
"I think I must have spoken to more than half the Probus clubs in the Bay of Plenty. I wear my driving suit and take my helmet along," said Faull.
Meanwhile, Auckland rally driver Glenn Inkster is predicting a four-way battle for Targa Rotorua honours this weekend.
Inkster sits seventh in the New Zealand rally championship after placing sixth in Rally Wairarapa last weekend. He is a relatively recent convert to the tarmac-only Targa events. However, with Targa co-driver Spencer Winn he heads into this weekend's two-day as one of the favourites thanks to the pair's second place (on debut) in the six-day Dunlop Targa event from Auckland to Wellington last year, and their win in the two-day Targa Bambina event in the Coromandel and eastern Waikato early this year.
Though his competitive focus remains on the annual NZ Rally Championship, Inkster says his recent foray into Targa events has reminded him why he started racing in the first place. "Targa events ... are just a little bit more relaxed. More fun."
Targa facts
Number of cars entered
101
Number of competitors (each car has a driver and co-driver)
202
Oldest entrant
Shirley Faull, Te Puke, 83
Youngest competitor
Munroe Martin, Auckland, 13
Competitor who travelled furthest
Robert Darrington/David Abetz, Perth, WA, Australia
Number of volunteers helping to run the event
800
Newest car
2011 Porsche Cayman RS of Brent McCarty and Grant Burns
Oldest car
1964 Fiat Abarth Berlina Corsa 1000 of Mike Lowe and Phillip Sutton
Combined length of special stages
382km
Combined length of touring stages
530km
Total distance competitors cover
912km